Psalms 95:1-3
Oh come, let us sing unto the Lord: let us make a joyful noise to the rock of our salvation. Let us come before His presence with thanksgiving, and make a joyful noise unto Him with psalms. For the Lord is a great God, and a great King above all gods.
The arrival of the fall season this month reminds us just how quickly this year is passing. Before you know it, we'll be celebrating the arrival of another new year!
Each year and each season bring many changes and challenges. I'm so glad to know there are some things that never change– especially the wonderful, unending, unlimited love of the Lord Jesus Christ!
Every day we can see the evidence of His love in our lives. If we take the time to see and appreciate it, God's love seems to grow deeper and sweeter within our hearts with every passing day.
One songwriter put it this way:
"Richer fuller, deeper,
Jesus' love is sweeter,
Sweeter as the years go by."
Just the thought of that should cause us to burst for in praise to God for truly "the Lord is a great God, and a great King above all gods."
— By Ann Shorb
Copyright Ann Shorb, 2017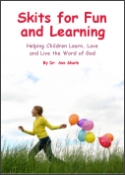 Skits for Fun and Learning
Skits for Fun and Learning is a collection of 15 puppet scripts and 5 articles on the subject of success with puppet ministries. The articles and scripts have been written by Dr. Ann Shorb and the book is available for purchase as a paperback, or as a PDF download.