PSALM 122:1 (KJV)
I was glad when they said unto me,
"Let us go into the house of the Lord."
As a kid, I always looked forward to Sunday dinner. It was the best meal of the week. Before church, Mom filled the roasting pan with a nice piece of meat and vegetables, and when we arrived home, the tantalizing scent of that roasted meal greeted us as we opened the door. Umm—It was hard to wait long enough to get our hands washed and finish putting dinner on the table so we could enjoy that delicious feast, complete with bread, salad and even dessert. I still love Sunday dinners!
Each Sunday when we attend a Bible-preaching church for worship, we have the opportunity for a spiritual feast, as well. The first course, the songs of worship and praise, are like the rolls and butter brought out to begin a meal. They delight our hungry hearts and awaken our spiritual taste buds as we sing to our great Creator, Savior, and King.
The reading of Scripture follows, just like delicious appetizer; it whets our appetites for what is yet to come.
Next, like a salad getting our palates ready for the main course, special music prepares our hearts and minds for the sermon that follows.
Then comes the entrée, the Bible message from the pastor or another church leader. It's the heart of the meal, the instruction and challenge from God's holy Word that speaks to us and provides spiritual sustenance and strength for daily living.
Finally, the closing words, the final song, and the benediction are the dessert that wraps up a wonderful time of feasting. It's a time for commitment and follow-through on what we heard. And it's the sweet taste that we carry with us until we meet again.
So next Sunday when you attend church, picture yourself coming to a table filled with delectable food. Savor every part of the service. Rejoice in the privilege and pleasure of worshiping your great Creator with other believers, and delight in Him as you enjoy that Sunday dinner.
PRAYER: Heavenly Father, thank You for spiritual nourishment each week that feeds my soul and sustains my spirit.
WORDS TO PONDER:
Someone once said, "Worship's not for me!" and that's true. It's not about us, it's about Him and for Him. Let's be faithful to worship together each week.
By Ann Shorb
Copyright Ann Shorb, 2016
Scripture taken from the King James Version of The Holy Bible.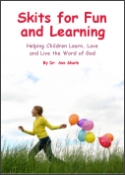 Skits for Fun and Learning
Skits for Fun and Learning is a collection of 15 puppet scripts and 5 articles on the subject of success with puppet ministries. The articles and scripts have been written by Dr. Ann Shorb and the book is available for purchase as a paperback, or as a PDF download.