NEHEMIAH 8:10 (KJV)
The joy of the LORD is your strength.
It's been eight weeks since I moved into my condo and I'm still unpacking. You'd think I'd have it all settled by now, but I don't. With a busy work schedule, special times with family and friends, and unexpected interruptions, I'm still sorting through things. This morning I'm pulling out books and CD's and putting them on the shelf that just arrived earlier this week. It feels like Christmas as I open boxes and find treasures I haven't seen for a couple of months–especially since the first thing I pulled out this morning was a holiday CD. I popped it in the player as soon as I saw it and I've been enjoying Christmas carols all morning!
"Silent Night, Holy Night" . . . "Joy to the World" . . . "O Come, All Ye Faithful" . . . Listening to that music reminds me how much God loves me and puts all of the cares and frustrations of the week in a different perspective. Ah, He loves me! He cares for me! He knows my needs and will meet them in His own time and His own way. What comfort and assurance these words bring!
So here's a challenge for you. Get out your Christmas music and let the joy of the season and the love of the Father saturate your heart and soak into your mind. Sing along, if you want, as you hear the words of celebration. Savor them. Remind yourself that the joy God sent to the world in the gift of His Son isn't limited to four weeks at the end of each year. Find His grace sufficient for this day as well as you relax and rest in His heavenly peace. Merry Christmas, my friend!
Father, what fun it is to celebrate Christmas in September! Thank You for this special gift today.
By Ann Shorb
©Copyright Ann Shorb, 2011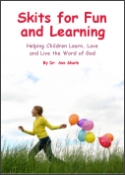 Skits for Fun and Learning
Skits for Fun and Learning is a collection of 15 puppet scripts and 5 articles on the subject of success with puppet ministries. The articles and scripts have been written by Dr. Ann Shorb and the book is available for purchase as a paperback, or as a PDF download.