PHILIPPIANS 4:1 (NKJV)
Stand fast in the Lord, beloved.
It's officially that time of year again! Multiple studies show that by the end of January most folks have already tossed aside their New Year's resolutions. In fact, one report found that January 17, is the date by which most people have lost their motivation for following through on their well-intentioned plans to change some aspect of their behavior.
January 1, brings a fresh start after weeks of holiday indulgences, and we're quick to pledge to work on certain things in our life. Lose weight, save more money, get to bed earlier, spend more time in prayer . . . If we know the changes we resolve to make are beneficial, why don't we follow through? If, like most people, you find your motivation weakening–or completely gone–here are a few questions to prayerfully consider that may help you get back on track.
Why did I make this resolution to start with? What was your motivation? Why did you feel a change was necessary? A big part of sticking to your disciplines is wanting the end result. If your "want to" is weak, there's a much greater likelihood that you'll abandon your goal. Remind yourself of the benefits of making the change and how much better things will be if you do.
Was my goal realistic? A goal that is drastically different from your current lifestyle may be lofty, but hard to attain in one giant step. Let the Lord show you how to break it down into attainable steps, then tackle them one by one.
What hinders me from staying on track? Think about that seriously and seek God's wisdom on how to handle each obstacle.
What will it cost me if I don't make the change? It's easy to get into a routine and stay there just because it's comfortable and known, even though it may not be healthy or godly. Those old habits and attitudes may be keeping you from finding God's best for your life.
How about you? Have you given up already? If not, pat yourself on the back, praise the Lord, and keep on going. If you have, refocus. Set your eyes on the goal before you. Seek God's wisdom and strength for the task. Stand fast in your resolve, and stay on course. Remember, with God's help, all things are possible!
PRAYER: Lord, help me go the distance in making changes in attitudes and habits that will make me more like Jesus.
WORDS TO PONDER: "God wants marathon runners, not sprinters."
–Unknown
By Ann Shorb
©Copyright Ann Shorb, 2014
Scripture taken from the New King James Version. Copyright © 1982 by Thomas Nelson, Inc.  Used by permission.  All rights reserved.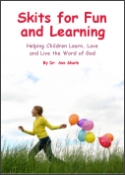 Skits for Fun and Learning
Skits for Fun and Learning is a collection of 15 puppet scripts and 5 articles on the subject of success with puppet ministries. The articles and scripts have been written by Dr. Ann Shorb and the book is available for purchase as a paperback, or as a PDF download.