ISAIAH 55:8-9 (NKJV)
"For My thoughts are not your thoughts,
Nor are your ways My ways," says the Lord.
"For as the heavens are higher than the earth,
So are My ways higher than your ways,
And My thoughts than your thoughts."
Spring is officially here! It arrived Thursday afternoon around 1:00, so I'm looking for robins and waiting for flowers to pop up from the ground any minute now.
But wait! What's that I see in the weather forecast for Tuesday evening? Possible snow? It's not supposed to snow in spring! The snow is supposed to be behind us. Everything is supposed to be bright and cheery. Isn't that what spring is all about–new life, growth, sunshine, flowers?
It seems my expectations are a little too high this year. After the extremely rough winter we've just come through, though, it's difficult to wait one day longer for those warmer, brighter days, but I guess I must be patient.
Sometimes we expect life to be just as we imagine and when things don't go our way, we get disappointed, hurt, and even angry with others or with God. When our thinking goes like that, we're in dangerous territory because, in reality, we have stopped trusting our loving Heavenly Father to care for us. We forget that He is in control
Author Jerry Bridges writes in his book Trusting God, "We honor God by choosing to trust him when we don't understand what he is doing or why he has allowed some adverse circumstance to occur. As we seek God's glory, we may be sure he has purposed our good and that he won't be frustrated in fulfilling that purpose."
Let's learn to trust God—even in the little things like waiting for spring weather.
Prayer: Loving Heavenly Father, forgive me when I think I know what's best and want my own way. Give me patience and grace as I wait on Your timing for everything. I know You know what's best.
Words to Ponder: "We must learn to trust God one circumstance at a time."
–Jerry Bridges, Trusting God
Related Devotional: Ah, Sunshine! 
By Ann Shorb
©Copyright, Ann Shorb, 2014
Scripture taken from the New King James Version. Copyright © 1982 by Thomas Nelson, Inc.  Used by permission.  All rights reserved.
FREE EASTER SKIT FOR CHILDREN OR FOR PUPPETS!
This simple skit, "The Resurrection Rock" is fun to use in Sunday School, Children's Church, or in family devotions.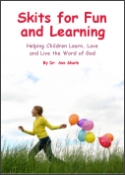 Skits for Fun and Learning
Skits for Fun and Learning is a collection of 15 puppet scripts and 5 articles on the subject of success with puppet ministries. The articles and scripts have been written by Dr. Ann Shorb and the book is available for purchase as a paperback, or as a PDF download.