PSALM 63:1 (NKJV)
O God, You are my God; early will I seek You; my soul thirsts for You.
Anne Graham Lotz s is one of my favorite authors, speakers, and Bible teachers. Her poise and kind demeanor are noticeable, and her appearance is serene, but the thing that strikes me most is her obvious desire to know and walk with God. Each year, she speaks to thousands of people encouraging them to get into God's Word and to know Him more fully. Her messages bless so many hearts!
What's the secret of her success? She spends time alone with God each day. She tells the story of feeling that one day God just showed up at her door asking her to get up early each morning and spend time with Him in prayer and Bible reading. I suppose we all think that the daughter of the great evangelist, Billy Graham, would automatically have responded enthusiastically to that request, but Anne confesses that it took her a while to warm up to the idea because it meant losing some sleep. Eventually she realized this was not a demand from God but an invitation to know Him better, and that made all the difference in the world.
Humbly she says:
"One reason I have maintained my walk with God is that no one else – not my beloved family or my close and loyal friends – really understands me. No one else truly knows my fears and longings and hurts and dreams and failures. But He shares my feelings, my loneliness. Spending time with God as I "walk" with Him meets needs that are in the deepest part of me. He Himself is the solution to the loneliness of the human spirit."
Those quiet moments of reading, prayer, and meditation have innumerable benefits for body, soul, and spirit. If you take the time to commune with Him in the morning, it puts your focus where it needs to be and sets the tone for your day. If you prefer to spend time with God in the evening, then your day ends on a positive note. You can put everything that happened in those hours into His hands and leave them there. But no matter when you do it, a daily quiet time helps you stay on track, and find and fulfill your purpose in life. It fosters love, joy, peace, patience, compassion, and kindness in your life, and it provides you with promises to cling to in difficult and trying moments. With all this in mind, can you really afford not to take the time to meet with the Lord each day?
Prayer: Thank You, Lord, for Your precious invitation to come and fellowship with You each day. When busyness, fatigue, or interruptions try to steal that time away, help me diligently hold on to our moments together.
Words to Ponder:
Sitting at the feet of Jesus,
O what words I hear him say!
Happy place! So near, so precious!
May it find me there each day;
Sitting at the feet of Jesus,
I would look upon the past;
For His love has been so gracious,
It has won my heart at last.
–Sitting at the Feet of Jesus, Anonymous hymn writer
Related Devotional:
How to Have a Quiet Time
By Ann Shorb
Copyright Ann Shorb, 2015
Scripture taken from the New King James Version. Copyright © 1982 by Thomas Nelson, Inc.  Used by permission.  All rights reserved.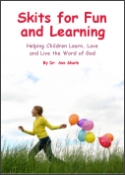 Skits for Fun and Learning
Skits for Fun and Learning is a collection of 15 puppet scripts and 5 articles on the subject of success with puppet ministries. The articles and scripts have been written by Dr. Ann Shorb and the book is available for purchase as a paperback, or as a PDF download.