COLOSSIANS 4:5-6 (KJV)
Walk in wisdom toward them that are without, redeeming the time.  Let your speech be always with grace, seasoned with salt, that ye may know how ye ought to answer every man.
Years ago my friend Grace and I spent a lot of time talking. Our children were young and played together often, and she and I were involved in many of the same activities at church. We just naturally had a lot to talk about! One day when her husband questioned how we could talk so long, I told him I was practicing a Biblical command—"Let your speech be always with grace . . ." Although I know that wasn't what the Apostle Paul had in mind when he wrote those words, it sounded to me like a good answer at the time!
In reality, Paul's words instruct us about the way we are to speak to others. Here the word "grace" means acceptable, beneficial, pleasant, with favor and appreciation. Paul also reminds us that our speech is to be "seasoned with salt." Since salt's two primary purposes are to preserve and to add flavor, Paul seems to be telling us that our conversations should be tasteful and should preserve and not corrupt.
Bible commentator Matthew Henry puts it this way: "Grace is the salt which seasons our discourse, and keeps it from corrupting. It is not enough to answer what is asked, unless we answer aright also."
I've come to the conclusion that speaking with grace and kindness is not just a matter of learning to say the right words; it's an attitude of the heart and mind. What comes out of my mouth only reflects what's going on inside. Truly, I must set my heart on the things of God and let Him do His work in me if I want to fulfill His command to speak with grace seasoned with salt.
Lord, my heart echos the words of David when he said, "Let the words of my mouth and the meditation of my heart be acceptable in Thy sight, O Lord, my strength and my Redeemer."  (Psalm 19:14)

By Ann Shorb
© Copyright 2010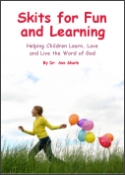 Skits for Fun and Learning
Skits for Fun and Learning is a collection of 15 puppet scripts and 5 articles on the subject of success with puppet ministries. The articles and scripts have been written by Dr. Ann Shorb and the book is available for purchase as a paperback, or as a PDF download.