JAMES 3:13-18
Who is a wise man and endued with knowledge among you?  Let him shew out of a good conversation (lifestyle) his works with meekness of wisdom.  But if ye have bitter envying and strife in your hearts, glory not, and lie not against the truth.  This wisdom descendeth not from above, but is earthly, sensual, devilish.  For where envying and strife is, there is confusion and every evil work.  But the wisdom that is from above is first pure, then peaceable, gentle, and easy to be intreated, full of mercy and good fruits, without partiality, and without hypocrisy.  And the fruit of righteousness is sown in peace of them that make peace.
When seeking wisdom you need to recognize that there are four sources from which it may come.  The verses above clearly teaches that.  Three of these sources produce unhealthy, unreliable wisdom that may seem right and good for the moment, but ultimately lead down a path to chaos and destruction.  Therefore, be cautious where you look for wisdom.
Earthly wisdom (human reasoning) is characterized by confusion envy, bitterness, strife, deceit and hate.  Sensual wisdom is based on what you pick up through your senses your feelings, in other words.  Sadly this wisdom produces instability, strife, confusion, hurt, jealousy and has no absolutes.  Devilish (demonic) wisdom is full of evil, selfishness, hatefulness, anger, harm, and ungodliness.  Only Wisdom from Above is godly, heavenly wisdom and is pure, peaceable, gentle, considerate, submissive, merciful, impartial, sincere, and is full of good works.
Here are some questions to ask yourself as you consider your options and prayerfully seek God's direction for various situations.  Think through each one honestly and carefully.  Keep in mind that you are not the only one that will be affected by your decision.  Family members, co-workers, your current employer, and those in your church family may all be touched by the choices you make.
It's a good idea to actually write out your answers, then, review them when you are finished.  In addition, talking to at least one other mature Christian to get his/her input on can give you a perspective that perhaps you hadn't thought of before.
– Are the issues involved pure, wholesome and something I would be unashamed of?
– Will they produce peace or strife and stress?
– By doing this am I being considerate to others, to myself, and especially to my Lord?
– Am I being submissive or am I plowing my way into something?  Will it cause me to have aggressive and harsh attitudes and/or actions?
– Is it a demonstration of mercy? Does it meet needs for others and show compassion?
– Will it produce an environment where the good fruit of love, joy, peace, patience, kindness, goodness, faithfulness, gentleness and self-control can grow and mature, not just for me but for others who will be effected by my choice?
– Does it seem impartial for all those involved and affected by it, or does it favor one person or group over or another?
– Can I do this with sincerity or must there be deceit or hypocrisy involved?
Be honest with yourself as you answer these questions. Let the Holy Spirit help you discern if the obvious characteristics of what you see are earthly, sensual, devilish, or From Above.  Following godly wisdom produces a satisfying and healthy life for yourself and others.  Be wise, my friend. Be wise.
Beloved Father, help me to distinguish Your voice from all others and to be guided by Your direction alone.
By Ann Shorb
©Copyright Ann Shorb, 2009
Two downloadable printouts have been made available to go along with this devotional. These can be used as handouts for your own ministry or with your family.
New Wallpaper is Available
January's wallpaper can be downloaded from our wallpaper page.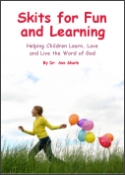 Skits for Fun and Learning
Skits for Fun and Learning is a collection of 15 puppet scripts and 5 articles on the subject of success with puppet ministries. The articles and scripts have been written by Dr. Ann Shorb and the book is available for purchase as a paperback, or as a PDF download.