PSALM 40:1 (KJV)
I waited patiently for the Lord and He inclined unto me and heard my cry.
A local pastor shared with me this week that he is writing a book on the importance of solitude and prayer. This man has spent his entire adult life in ministry, preaching and teaching the Word of God and serving others. He is well educated, gifted in many areas, and his influence reaches far beyond Hanover, Pennsylvania, but he told me that the one thing that changed his ministry and made it truly fruitful is daily solitude and time in prayer. He is committed to spending time alone every morning shutting out everything else as he talks to and listens to God. He calls upon Him for many things, and prays, by name, for hundreds of people each week. While that might sound boring to many folks, or too time consuming for the busy person, this pastor told me, "I actually look forward to that time. It invigorates me and gets me moving in God's direction. I miss it if I don't have it."
Paul tells us in I Thessalonians 5:17 to "pray without ceasing"—to live in an attitude of prayer, constantly knowing that Christ is by our side and accessible to us every hour of every day. While that's true and extremely important, it should never become a substitute for deep committed time alone with the Lord when we shut out all others and empty our hearts and minds of the cares and activities of life, and just talk with and listen to Him.
Henri J. M. Nouwen said, "Without solitude it is virtually impossible to live a spiritual life. Solitude begins with a time and a place for God, and Him alone."
Since we know that having a deep walk with Christ depends on intentionally spending time with Him each day in prayer and Bible reading, the question for each of us then becomes, "Am I willing to commit to a daily time alone with Him when I empty my heart and mind of all other distractions and commune with Him?" If not, we must ask, "What's keeping me from it?"
PRAYER: Lord, in an era when technology connects us with people all over the world in just a matter of seconds, solitude is becoming more and more of a rare thing. Help us see it as a treasure and discipline ourselves to spend that time alone with You each day so that we may experience the fullness of Your love and the greatness of Your work in our lives.
WORDS TO PONDER: "Prayer is in very deed the pulse of the spiritual life."
–Andrew Murray
By Ann Shorb
© Ann Shorb 2015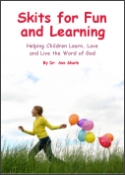 Skits for Fun and Learning
Skits for Fun and Learning is a collection of 15 puppet scripts and 5 articles on the subject of success with puppet ministries. The articles and scripts have been written by Dr. Ann Shorb and the book is available for purchase as a paperback, or as a PDF download.