Colossians 3:1-5 (NKJV)
If then you were raised with Christ, seek those things which are above, where Christ is, sitting at the right hand of God.  Set your mind on things above, not on things on the earth.  For you died, and your life is hidden with Christ in God.  When Christ who is our life appears, then you also will appear with Him in glory.
SNIRT. Isn't that a funny word? I don't know who coined the term, but it's a combination of snow and dirt: SN+IRT = SNIRT. Here in Pennsylvania, we've had a lot of snow during this long, rugged winter. Now we have lots of snirt.
You find snirt a few days after a snowfall, especially along the roadsides where fast moving traffic flings the slush and dirt of the highway up on the beautiful white snow. Gradually, all that filth mixing with loveliness is no longer attractive. In fact, it becomes pure ugliness, but if you look up higher on the hillside where the snow is still pure and untouched by the dirt, you won't find any snirt. You still see the loveliness of new-fallen snow glistening and bright.
It's interesting that if we look at our own lives, we may find a lot of snirt—places where the loveliness of Christ gets mixed with the filthiness of the world. When our purity and our godliness become a mixture with the dirt of life, it lacks beauty and serves no purpose. In fact, it counteracts the plan and purpose of our Heavenly Father.
To rise above the snirt of life and live in the magnificence of holiness, it takes intentional effort on our part. We must surrender our will and allow the indwelling Holy Spirit to guide us in making choice after choice to do things God's way. Left to our own desires, wisdom, and understanding we lose the purity of godliness.
Why is this so important? I Thessalonians 4:7-8 give us the answer: "God has not called us to uncleanness, but in holiness. Therefore, he who rejects this does not reject man, but God, who has also given us His Holy Spirit."
Prayer: Heavenly Father, let us be faithful to choose to follow You and reject the ways of the world so that we may live daily in purity, holiness and beauty.
Words to Ponder: "Above all, desire to please Christ; dread His disapproval above everything else."
–Rowland Croucher
By Ann Shorb
©Copyright, Ann Shorb, 2014
Scripture taken from the New King James Version. Copyright © 1982 by Thomas Nelson, Inc.  Used by permission.  All rights reserved.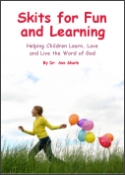 Skits for Fun and Learning
Skits for Fun and Learning is a collection of 15 puppet scripts and 5 articles on the subject of success with puppet ministries. The articles and scripts have been written by Dr. Ann Shorb and the book is available for purchase as a paperback, or as a PDF download.