II CORINTHIANS 7:1 (NIV)
Since we have these promises, dear friends, let us purify ourselves from everything that contaminates body and spirit, perfecting holiness out of reverence for God."
Meteorologist Al Roeker of NBC's TODAY show said in one of his reports, "With all the pollen in the air right now, it's sneezin' season." And he's right! God designed the human body to expel and rid itself of harmful agents that come into it. The body produces histamines when irritants enter and annoy it. These make you sneeze to expel the aggravating particles through the nasal passages, and your eyes water to flush out things that aren't good for you. It's a natural, God-designed process. Unfortunately, when there is an abundance of irritants in the air, the body works overtime producing coughs, tears and sneezes to help do the job—and that makes you miserable.
In the spiritual realm, God the Holy Spirit works through the human conscience to help us get rid of things in our life that aren't good for us. When we ignore His promptings and allow those things to remain, we find ourselves uncomfortable, irritable, and eventually with a cold and hardened heart. We're miserable!
Instead, listening to the voice of the Holy Spirit and obeying His direction brings about repentance. Although it's not a popular concept in our current culture, repentance is turning away from the sinful, harmful attitudes and pleasures of the world, and turning toward Jesus and doing things His way. Pastor and author Robert Jeffress says, "Repentance both honestly acknowledges failure and causes a change of direction," (Choose Your Attitude, Change Your Life).
As we turn away from the things that harm and contaminate our hearts and minds, we honor God and we free ourselves from the bondage of anxiety and depression that can result from a guilty conscience. The lovely fruit of the Spirit is then able to grow in us, and we may freely love and serve God and others.
PRAYER: Holy Spirit, search me and show me things in my life that draw me away from You. Help me turn from them and seek the face of Jesus.
WORDS TO PONDER:
"I am resolved no longer to linger,
Charmed by the world's delights;
Things that are higher, things that are nobler,
These have allured my sight.
I will hasten to Him,
Hasten so glad and free;
Jesus, Greatest, Highest,
I will come to Thee."
–Palmer Hartsough (1844-1932), Hymn writer, "I Am Resolved"
RELATED DEVOTIONALS & ARTICLES:
By Ann Shorb
©Copyright, Ann Shorb, 2015
*Scripture taken from The HOLY BIBLE, NEW INTERNATIONAL VERSION ®. Copyright © 1973, 1978, 1984 by the International Bible Society. Used by permission of Zondervan. All rights reserved.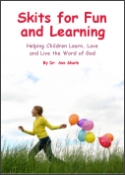 Skits for Fun and Learning
Skits for Fun and Learning is a collection of 15 puppet scripts and 5 articles on the subject of success with puppet ministries. The articles and scripts have been written by Dr. Ann Shorb and the book is available for purchase as a paperback, or as a PDF download.