PSALM 100:2 (KJV)
Serve the LORD with gladness:
Come before His presence with singing.
One morning I woke up singing "When We All Get to Heaven"– a song I learned in childhood. Its catchy tune is one we sang often in my church and I frequently sang it at home as well.
If you take a minute to read through the words, you'll find this little song has a powerful and uplifting message as it encourages us to keep our eyes fixed not on the here and now, but on the heavenly prize that awaits those who belong to the Lord Jesus Christ.
Sing the wondrous love of Jesus,
Sing His mercy and His grace;
In the mansions bright and blessed,
He'll prepare for us a place.
REFRAIN:
When we all get to heaven,
What a day of rejoicing that will be!
When we all see Jesus,
We'll sing and shout the victory.
While we walk this pilgrim pathway,
Clouds will overspread the sky;
But when trav'ling days are over,
Not a shadow, not a sigh.
REFRAIN
Let us then be true and faithful,
Trusting, serving every day;
Just one glimpse of Him in glory
Will the toils of life repay.
REFRAIN
Onward to the prize before us!
Soon His beauty we'll behold;
Soon the pearly gates will open,
We shall tread the streets of gold.
REFRAIN
–Eliza Edmunds Hewitt, 1851-1920
Thinking about the joy that lies before me certainly puts everything else in focus. It motivates me not only to sing, but to serve the Lord every day as I walk my earthly journey. As you focus on these thoughts, I hope you'll be blessed like I was this morning, and that you'll have a song of joy and hope in your heart the rest of the day!
PRAYER: Lord, thank You for starting my day in such a wonderful way!
RELATED DEVOTIONAL:
Praise the LORD! Sept. 26, 2015
By Ann Shorb
©Copyright Ann Shorb, 2015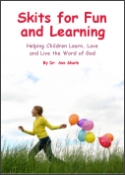 Skits for Fun and Learning
Skits for Fun and Learning is a collection of 15 puppet scripts and 5 articles on the subject of success with puppet ministries. The articles and scripts have been written by Dr. Ann Shorb and the book is available for purchase as a paperback, or as a PDF download.