Philippians 1:6
Being confident of this very thing that He who hath begun a good work in you will perform it until the day of Jesus Christ.
There is an enemy that tries to defeat every one of us at times. It's the enemy of self-doubt. You know what I'm talking about. Perhaps you got that new job, or you have a new direction to take and self-doubt says, "You just can't do that," or "You're not smart enough." But maybe you've been at a task a long time and you're weary and the voice of self-doubt shouts, "You don't have enough strength," or "You'll never make it!"
Self-doubt usually comes from one of three places. First, some folks are just wired to see the negative in situations. The melancholy personality type has a natural tendency to see what can go wrong and to doubt a lot of things, even themselves. Second, the voice of self-doubt may come from what others said to you in the past. Perhaps you were called "stupid" or "fat", "lazy," or something worse. Those words may still be ringing in your thoughts. Third, self-doubt comes from experience. Maybe you've tried before and you didn't succeed, or you saw someone else try and fail, so you're convinced you probably won't make it either.
The Apostle Paul has some encouraging words for us in Philippians 1:6. He says that when we are doing the will of God, we can be confident that HE WILL PERFORM IT. I love those four words! They sum up Paul's thought that God Himself, the one who started the good thing in your life, will perform it. You don't have to doubt your own abilities. You don't even have to look to your own abilities. Pray to God to accomplish THROUGH you the good that He wants to do in your life. Be confident that HE will perform it! Ahhh! What a relief! That will silence the voice of self-doubt.
Almighty God, today I need Your help. My list of things to do is long, and very difficult. Be my strength, my wisdom, and all that I need. Accomplish in me Your perfect will, I pray.
Ann Shorb
Copyright Ann Shorb, 2007
*Scripture taken from the New King James Version. Copyright © 1982 by Thomas Nelson, Inc. Used by permission. All rights reserved.
NEW WALLPAPER FOR OCTOBER
The new wallpaper is available now. (It's the image at the top of this devotional).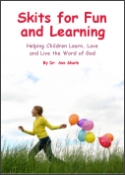 Skits for Fun and Learning
Skits for Fun and Learning is a collection of 15 puppet scripts and 5 articles on the subject of success with puppet ministries. The articles and scripts have been written by Dr. Ann Shorb and the book is available for purchase as a paperback, or as a PDF download.