JEREMIAH 29:13 (NKJV)
And you will seek Me and find Me, when you search for Me with all your heart.
ISAIAH 55:6 (NKJV)
Seek the Lord while He may be found,
Call upon Him while He is near.
Mark 5:21-43 records a story of two people who were each desperately seeking a miracle from Jesus. The interesting thing about this account is that they were so vastly different from each other.
One was a staunch religious leader in the Jewish community, Jairus by name. This man was well respected and had authority and power. He came through the crowd seeking Jesus and fell at His feet, begging Jesus to come to his home and heal his twelve-year-old daughter who was dying.
The other seeker was an outcast who, because of a physical illness was not allowed by Jewish law to even be a part of the community. For twelve years this woman lived in isolation and poverty, having spent all she had seeking help from doctors who were unable to stop her hemorrhaging. In contrast to Jairus who openly approached the Savior, this woman crept quietly through the crowd and came up behind Jesus, believing that simply touching His clothing would be enough to bring her healing.
Despite their many differences, both seekers approached Jesus with humility and faith—and both received the miracle they so desperately needed.
What a beautiful picture of the love and mercy of God that transcends all barriers! Not culture, nor gender, nor social status, nor religious standing can hold back the help and healing that come to those who seek Him in humility and faith. His love is poured freely on all who surrender self and come to Him.
PRAYER: Gracious Lord, we have nothing to offer You but our faith and trust. Please heal our hurts and use our lives in service for You.
WORDS TO PONDER: "God's love always shines on the other side of life's darkest moments."
–Unknown
By Ann Shorb
©Copyright Ann Shorb, 2015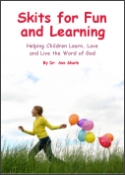 Skits for Fun and Learning
Skits for Fun and Learning is a collection of 15 puppet scripts and 5 articles on the subject of success with puppet ministries. The articles and scripts have been written by Dr. Ann Shorb and the book is available for purchase as a paperback, or as a PDF download.