ACTS 17:11 (NKJV)
These were more fair-minded than those in Thessalonica, in that they received the word with all readiness, and searched the Scriptures daily to find out whether these things were so.
Last week, I was hurrying to get the devotional off to our webmaster so he could post it, and I obviously failed to think through what I was writing. Thankfully, one of our dear readers caught the error. I'm sure several of you did, but only one took the time to bring it to my attention. Thank you, Roseleen!
What I wrote was, "Remember, the God who walked in the fire with Daniel and his friends is the same God who walks with you today." The fact is, the Bible tells us that the three friends were in the fire, but Daniel was not. What I should have said was, "The same God who protected Daniel in the lions' den, and who walked with his friends in the fire, is the same God who walks with you today." That is accurate!
It seems my brain took the two events and made a contraction out of them combining them into one phrase! I'd like to tell you it wasn't a mistake, but it was actually a test to see if you were paying attention to what you read . . . but I can't say that. I goofed, and I'm sorry!
Two important lessons come out of my mistake. First, that a writer/speaker/teacher needs to be extremely careful about what he/she says, making sure it is in line with God's Word. God holds us accountable for that!
Second, a reader always needs be alert to the content of what he's absorbing. When the Paul and Silas arrived in Berea, they were encouraged by seeing the believers there daily searching Old Testament Scriptures to make sure what they were being taught about the way of Christ was in line with what they knew to be from God, (Acts 17). We need to be constantly doing the same.
There are many reasons people say things that are inaccurate about the Word of God. It may be that they had wrong teaching, or that they have a misperception or immature understanding of God's Word, or that it's a careless mistake. Whatever the reason, readers need to diligently study and know the Scriptures for themselves. Then, seek sound teaching, all the while praying for the Holy Spirit's guidance and discernment as they read and study.
May God bless and guide you as you read, study, learn, and grow in your walk with Him!
PRAYER: Lord God, thank You for the gift of Your Word and for the Holy Spirit to guide us into Your truth.
WORDS TO PONDER: "The Spirit of God brings to our minds the precepts and doctrines of truth, and applies them with power. These are heard in the ear, and being received in the heart, they work in us to will and to do of God's good pleasure. The truth is the sanctifier, and if we do not hear or read the truth, we shall not grow in sanctification."
–Charles H. Spurgeon, Morning and Evening, July 4
By Ann Shorb
©Copyright, Ann Shorb, 2016
Scripture taken from the New King James Version. Copyright © 1982 by Thomas Nelson, Inc.  Used by permission.  All rights reserved.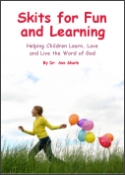 Skits for Fun and Learning
Skits for Fun and Learning is a collection of 15 puppet scripts and 5 articles on the subject of success with puppet ministries. The articles and scripts have been written by Dr. Ann Shorb and the book is available for purchase as a paperback, or as a PDF download.