PSALM 139:23-24 (KJV)
Search me, O God, and know my heart: try me, and know my thoughts:
And see if there be any wicked way in me, and lead me in the way everlasting.
I'm back! After four weeks of not connecting with you, I'm finally getting my thoughts together and off via email. No, I wasn't on vacation or off on some adventure. To be honest with you, I've just been really dragging. "Doing too much? Slowing down with age? Depressed?" I asked myself over and over what it could be. Then I found the answer. Unbeknown to me, I had an infection brewing in my system for several weeks. The doctor told me two weeks ago that my immune system had been working overtime to fight it and that's why I felt so run down.
That was a sneaky infection! And not only was it sneaky, but it was strong and stubborn. There was no fever and no outward sign for quite a while. Then, when it was diagnosed, a round of antibiotic medication didn't help much. It wasn't until the doctor did a simple surgical procedure and cleaned out the wounded area that things began to clear up. Now I'm feeling amazingly better and much more energetic. In fact, I can't believe how good I feel. I'm really enjoying life once again!
All those weeks, I wasn't really sick, but I wasn't really well either. Oh, I kept working and doing most of the things I had to do, but I was dragging. That infection slowed me down and made me doubt myself and question my abilities. It rearranged my schedule and caused me to adjust my outlook. It also made me susceptible to other illnesses, too. Things just weren't the same.
Isn't that just what happens when there's sin in a life? Sometimes it takes over so gradually that you don't even realize how far you're drifting from the Lord. Your passion for the things of the God slows down to a mere simmer. You no longer desire to read His Word, and you neglect your time in prayer. Your mind gets infected with worldly thinking, and your conscience no longer bothers you when you do wrong. You find that your perspective, your attitude, and your focus all change. Yes, your heart is sluggish and your mind is clouded. Things just aren't the same.
But there's good news! When you open your heart to the Great Physician and confess your sin, He'll clean out all the indifference and iniquity in your life. You don't have to let sin continue to infect your mind and spirit. You can be cleansed and have renewed joy and peace, and regain your spiritual energy. You actually can enjoy life once again!
Great Physician, Your Word tells me that if I confess my sin, You will faithfully forgive me and cleanse me from all unrighteousness. Thank You for the greatness of this promise.
By Ann Shorb
Copyright Ann Shorb, 2012
Scripture taken from the King James Version of The Holy Bible.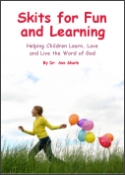 Skits for Fun and Learning
Skits for Fun and Learning is a collection of 15 puppet scripts and 5 articles on the subject of success with puppet ministries. The articles and scripts have been written by Dr. Ann Shorb and the book is available for purchase as a paperback, or as a PDF download.