DEUTERONOMY 6:6-9 (NKJV)
And these words which I command you today shall be in your heart. You shall teach them diligently to your children, and shall talk of them when you sit in your house, when you walk by the way, when you lie down, and when you rise up.  You shall bind them as a sign on your hand, and they shall be as frontlets between your eyes. You shall write them on the doorposts of your house and on your gates.
Winding down Interstate 81, memories of my childhood flooded my mind. I was on my way to my home state to honor my mother on what would have been her 100th birthday, if she were still living. The long drive gave me a lot of time to reflect on the great heritage my parents left me. The longer I live, the more I appreciate the way they taught me the Word of God, and the way they lived it so that it became real to me.
It was wonderful to visit with my brother and sister-in-law, and to celebrate this special occasion together. We enjoyed visiting our hometown and places we lived as children, driving through the old neighborhoods, seeing the church we once attended, and decorating our mother's grave with her favorite flowers.
My brother and I were blessed to grow up in a home where we regularly went to church as a family. Some things were non-negotiable in our home, and church attendance was one of them, but it wasn't just a ritual or formality. Our parents lived their faith every day of the week. Their walk with the Lord wasn't a Sunday only practice. They had a living faith, and we knew that they served a living Savior. That gave me an anchor for the rest of my life.
What a wonderful time of celebrating and sharing! Thanks for being such a great example of a life that knows the joy of living for Jesus, Mom. Happy 100th Birthday!
Prayer: Lord, thank You for the blessings that roll from generation to generation. Thank You for special memories and for the blessing my mother was to me. Now, let me bless my children and grandchildren in the same way, and give them the anchor that my parents gave to me.
Read Related Devotionals:
By Ann Shorb
Copyright Ann Shorb, 2013
Scripture taken from the New King James Version. Copyright © 1982 by Thomas Nelson, Inc.  Used by permission.  All rights reserved.
FREE DOWNLOAD! "Back to School With Success"–Practical tips and resources for parents 
Get it here. This brochure can be printed and distributed free of charge to students and parents in your church, school or organization.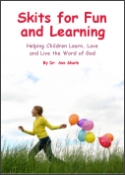 Skits for Fun and Learning
Skits for Fun and Learning is a collection of 15 puppet scripts and 5 articles on the subject of success with puppet ministries. The articles and scripts have been written by Dr. Ann Shorb and the book is available for purchase as a paperback, or as a PDF download.