PHILIPPIANS 1:21 (KJV)
For to me to live is Christ, and to die is gain.
Dorothy V. Pundt
1917-2011
Her name was Dorothy, but everybody called her Bo. She was 94 years old with a mind that was still sharp as a tack, but her body was failing. She knew she would never get better and would never be strong again, so last week she called her pastor and gave him a message for her beloved church family. "Ask them to pray that I will die. I'm ready to go and I'm praying that the Lord will take me soon." Now that's not a prayer request a pastor hears every day!
You see, Bo knew Christ as her Savior. She studied His Word, spent time in prayer, and made following Him a daily goal, so she wasn't scrambling at the last minute to make things right with God. Indeed, she had no fear of leaving her body behind and stepping from this life into the next. She planned her funeral, wrote farewell letters to her family and made her last wishes known. She even asked forgiveness for hurtful things she'd said and done. She was ready to go!
God answered Bo's prayers. On Tuesday, she quietly slipped out of her body and into the actual presence of the Savior she loved and longed to see. Her nurses found her sitting in her chair with the most incredible look of peace on her face. The stress, the suffering, and the sorrow of this life are behind her and she is resting in the arms of Jesus. She was ready to go when He called her home, and I'm sure she never looked back.
Most of us aren't as ready to die as Bo was. It's not that we don't want to go to Heaven, it's just that we're not ready to leave family or we still have things we want to do. And let's face it, the thought of getting from here to there is a bit scary. But the real secret to being prepared to die isn't in planning your funeral or writing letters of good-bye to those you love. The true secret is found in living each day for Christ, walking with Him, and letting Him lead step by step. Then, no matter when God says it's time for you to leave this earth, you'll be ready to go.
Heavenly Father, help me to live each day as though it were my last, living out Your will, following Your way, loving others as You love.
By Ann Shorb
©Copyright 2011, Ann Shorb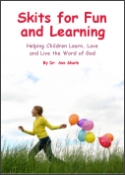 Skits for Fun and Learning
Skits for Fun and Learning is a collection of 15 puppet scripts and 5 articles on the subject of success with puppet ministries. The articles and scripts have been written by Dr. Ann Shorb and the book is available for purchase as a paperback, or as a PDF download.