ISAIAH 30:19
He will be very gracious unto thee at the voice of thy cry; when He shall hear it, He will answer thee.
They were in every aisle, every part of the store, and every check-out line!  No matter where we turned the other night, young people were grabbing up school supplies and checking off their list of what to bring to school.  Many parents helped them prepare for the start of another school year, and some seemed to actually be enjoying their adventure together.
As youngsters all around the USA head back into the classroom there's something all of us can do to help them prepare for the new year.  We can pray!  Today's kids face enormous challenges and pressures.  Temptations abound, and the young person who tries to do right is often the object of ridicule.  Let's cover them with our prayers not only as this new school years starts, but throughout the weeks and months ahead.
And don't forget to pray for the teachers and administrators, as well, especially those who are Christians.  Ask God to make them not only effective teachers and leaders, but good role models and powerful witnesses for Him.
Would you be willing to commit to pray daily, by name for one or more students, and a teacher or administrator that you know?  Several years ago I targeted three Christian teachers in public schools and prayed for them regularly.  Several times I heard from each of them how much it meant to know that someone was remembering them before God's throne each day.  It's a little thing that doesn't take much time, but remembering in prayer our children and those who work with them brings a rich reward.

Heavenly Father, please watch over and protect our young people.  Give them understanding of things that are good.  Help them to shun evil.  Cause them to make wise choices in their friendships and bless them as they grow each day.  Bless the teachers and administrators.  May they reflect Your love and greatness, too.
By Ann Shorb
©Copyright Ann Shorb, 2017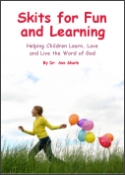 Skits for Fun and Learning
Skits for Fun and Learning is a collection of 15 puppet scripts and 5 articles on the subject of success with puppet ministries. The articles and scripts have been written by Dr. Ann Shorb and the book is available for purchase as a paperback, or as a PDF download.