LUKE 18:7-8 (NIV)
 And will not God bring about justice for his chosen ones, who cry out to him day and night? Will he keep putting them off?  I tell you, he will see that they get justice, and quickly."
In recent devotionals, we've examined several aspects of using our time wisely, and the importance of prayerfully discovering your passion, your spiritual gifts, and your purpose. This enables you to be intentionally selective about the things you do as you seek to live for Christ and fulfill His calling on your life.
Over his many years of ministry, Dr. Charles Stanley, one of America's most beloved pastors, formulated 30 Life Principles to live by. Principle 27 is intriguing –"Prayer is life's greatest time saver."
Dr. Stanley states that the parable Jesus told in Luke 18 points to the fact that God is quick to answer prayers for His children, be that with "Yes", "No," or "Wait", and that He does it in ways that save us time.
God will answer us at the time that is best for us—never before, never later. His delays often spare us numerous hours of wasted time and effort later in attempting to resolve the issue ourselves, in our own way, according to our own schemes, with our own limited knowledge and resources.
How foolish that is when God has unlimited resources from which to draw AND He sees the whole picture! He knows our every need—and what's more, He is eager and able to meet those needs at just the right time and in just the right way.
Just after my family moved to Pennsylvania in 1984, we discovered that the slate roof on the home we had just purchased was leaking! We'd scrapped together every nickel and dime we had to make the down payment on the home and now we were faced with replacing the old roof at the cost of just over $1,000.
Immediately we started praying, knowing that God had always met our needs, and fully believing that He was able to do so again. We thanked Him for opportunities for extra work, and for gifts that unexpectedly arrived in our mailbox. Money rolled in, and soon we counted $380 in front of us. What a miracle! And we knew the rest was yet to come—but it didn't. We continued praying fervently, but not one more dollar came in any way! It was hard to understand why God so suddenly stopped sending these monetary blessings. Then I started to worry! I spent a lot of time thinking of ways to cover the need, and planning just how we could finance the repairs.
In the meantime, we got a second estimate, from a man who suggested realigning the displaced shingles, replacing just the damaged ones, and then sealing the entire roof with a protective coating rather than replacing the entire roof. "After all," he said, "slate lasts for more than 100 years so you have at least 60 years left in that roof." His estimate? $380! And when he was all done, he actually charged us only $376 because it didn't cost quite as much as he thought it would.
When I think of the time I spent worrying, fretting, and scheming rather than simply handing it over to God and waiting for His solution, I see exactly what Dr. Stanley means—"God will answer our prayers as soon as it is best, not one moment sooner or one second later. This is why prayer really is life's greatest time saver."
PRAYER: Lord Jesus, when I start taking matters into my own hands, remind me of my need to simply kneel before You and tell You all my needs, and then wait expectantly as You work Your wonders to meet those needs.
WORDS TO PONDER: "As I reflect on my life, I realize that if God had answered certain prayers according to my timing, I would have missed His best in every case."
–Charles F. Stanley, The Charles F. Stanley Life Principles Daily Bible
RELATED DEVOTIONALS:
By Ann Shorb
Scripture taken from the Holy Bible, New International Version®, NIV® Copyright © 1973, 1978, 1984, 2011 by Biblica, Inc.® Used by permission. All rights reserved worldwide
©Copyright Ann Shorb, 2015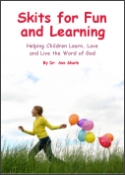 Skits for Fun and Learning
Skits for Fun and Learning is a collection of 15 puppet scripts and 5 articles on the subject of success with puppet ministries. The articles and scripts have been written by Dr. Ann Shorb and the book is available for purchase as a paperback, or as a PDF download.