PSALM 147:1, 7, 20 (NKJV)
Praise the LORD!
For it is good to sing praises to our God;
For it is pleasant, and praise is beautiful . . .
Did you hear that? The Psalmist tells us that praise to God is beautiful! The old King James Version of the Bible says praise is "comely"– a word we don't hear often these days, but it means "attractive" or "pleasant to look at".
When I think of the truly radiant Christians I've know over the years, I think of three special people. There have been others, of course, but these three stand out in my mind because they truly shine for the Lord. When you see them, you see joy, peace, and goodness. The beauty of Christ actually shows on their faces.
As I think of them, I notice that they all have a habit of praising the Lord for His goodness. It's just who they are even though life has not been easy for them. Each one has faced tremendous hardships, but they choose to thank God even in the tough times, and to praise Him for His bountiful blessings.
Dr. Catherine Hart Weber, Christian psychologist and author, says in her book FLOURISH, "God is good, and all blessings come from Him. By telling others how good He is to you, you will give hope and inspire spiritual renewal, as well. We are not only called to 'share each other's burdens' (Galatians 6:2 NLT), but to share our joys, blessings, and gratefulness, as well."
So we become pleasant to see and be around, and we encourage and inspire others when we praise the Lord. It authenticates our testimony as it reflects His glory, and it gives genuine evidence of God's greatness and the ability to change hearts and lives. So then, let us praise the Lord so much that others see Jesus in us!
PRAYER: Thank You, blessed Father, for the joys and the hardships that You allow to come into our lives. Teach us to praise You in both good times and bad, and let others see the radiance of Christ in us.
WORDS TO PONDER:
Sing to the LORD with thanksgiving;
Sing praises on the harp to our God . . .
Praise the LORD!
–King David, Psalm 147:7, 20
RELATED DEVOTIONALS AND HYMNS:
By Ann Shorb
©Copyright Ann Shorb, 2015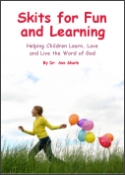 Skits for Fun and Learning
Skits for Fun and Learning is a collection of 15 puppet scripts and 5 articles on the subject of success with puppet ministries. The articles and scripts have been written by Dr. Ann Shorb and the book is available for purchase as a paperback, or as a PDF download.