ISAIAH 26:3 (NKJV)
You will keep him in perfect peace,
Whose mind is stayed on You,
Because he trusts in You.
The bulletin cover at church on Sunday pictured an old mill at rest with a lone white swan floating on the perfectly still pond. The sky was blue and the grass, trees and shrubs framing the scene were brilliantly green. The caption read "PERFECT PEACE." Underneath were the words of Isaiah 26:3.  Indeed it was the picture of complete peace.
On Tuesday morning, I faced a major disappointment but as I opened my book to lead our Bible study shortly after that, the first passage I had marked to read was Isaiah 26:3.  How good of my loving Father to remind me again of His ability to calm my storm and soothe my aching soul.
Over and over again in our current study we've seen that true peace comes as we seek God's voice, listen carefully to what He says, and then obey His commands. Samuel, King Hezekiah, Thomas, and Luke are examples of men who found peace when they steadfastly focused their hearts and minds on Him.
Its interesting, isn't it, how the Lord uses His Word to get us through tough times? It amazed my that day how often the words "Thou wilt keep him in perfect peace whose mind is stayed on thee," came to my mind along with Hebrews 12:2 that says, "Fix your eyes on Jesus . . ."  Yes, true peace comes as I focus on my God and Savior, not on the people and problems around me.  He is my Anchor!
Loving Father, giver of peace, I praise You for Your faithfulness always.  Truly You are the God of all might and power—able to calm the storms on the sea, and quiet the raging waves in our lives. Blessed be Your holy name!
P.S. When I finished writing this devotional, I shut down my computer and hopped into my car to go to work. As soon as I turned on the engine, the CD voices softly whispered the words "Peace! Peace! Wonderful peace, Coming down from the Father above; Sweep over my spirit forever, I pray, In fathomless billows of love." Even there God whispered His words of peace to my heart. I was astounded and humbled at His care.
By Ann Shorb
©Copyright Ann Shorb, 2010
Scripture taken from the New King James Version. Copyright © 1982 by Thomas Nelson, Inc.  Used by permission.  All rights reserved.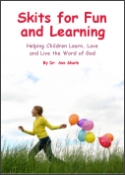 Skits for Fun and Learning
Skits for Fun and Learning is a collection of 15 puppet scripts and 5 articles on the subject of success with puppet ministries. The articles and scripts have been written by Dr. Ann Shorb and the book is available for purchase as a paperback, or as a PDF download.