DEUTERONOMY 6:6-7 (NKJV)
And these words which I command you today shall be in your heart. You shall teach them diligently to your children, and shall talk of them when you sit in your house, when you walk by the way, when you lie down, and when you rise up.
Last Friday the world watched with eager anticipation as Russian-born tennis star Maria Sharapova jogged in to the grand arena in Sochi, Russia carrying the Olympic torch. It was the culmination of the longest run in Olympic history to move the flame from its origin to the location of the winter games. Slowly, carefully the torch was passed runner to runner as it moved toward the cauldron where two Russian greats, Vladislav Tretiak and Irina Rodninao, ignited the flame that burns for the duration of the winter competitions.
The whole event was carefully orchestrated and carried out by more than 14,000 runners. Each one knew his/her assignment: Receive the torch when it's delivered to you. Run the course set before you. Pass the flame to the next athlete who will do the same. Person by person, step by step, the goal was accomplished. There was no room for taking a break, changing direction, or backing out of the assignment once the relay had begun.
Asaph was a skilled composer of numerous Psalms. Many of his works were performed in tabernacle worship by the choir. (I Chronicles 6:31-39; 2 Chronicles 29:30) Although he was not an athlete, he certainly had in mind the concept of passing the torch when he penned the words of Psalm 78:5-8. Speaking of God's commandments and His wonderful works toward His people, Asaph wrote:
For He established a testimony in Jacob,
And appointed a law in Israel,
Which He commanded our fathers,
That they should make them known to their children;
That the generation to come might know them,
The children who would be born,
That they may arise and declare them to their children,
That they may set their hope in God,
And not forget the works of God,
But keep His commandments;
And may not be like their fathers,
A stubborn and rebellious generation,
A generation that did not set its heart aright,
And whose spirit was not faithful to God.
As children of God, our course is set before us: Receive God's Word as it's delivered to us. Run the course set before us in teaching and living that Word for our children and their generation. They, in turn, can pass it on to their children, and to children's children. Person by person, generation by generation, the testimony of God will be passed on. God's mission will be accomplished as we give our descendents direction and hope for life. The challenge before us is great!
PRAYER: God of Israel and of all Christians, Your plan has not changed through all the ages. Lord, find us faithful in relaying the flame of Your Word and Your will to the generations who come behind us.
WORDS TO PONDER: How far that little candle throws its beam . . ."
–Shakespeare
By Ann Shorb
©Copyright Ann Shorb, 2014
Scripture taken from the New King James Version. Copyright © 1982 by Thomas Nelson, Inc. Used by permission. All rights reserved.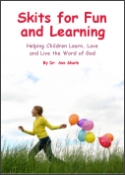 Skits for Fun and Learning
Skits for Fun and Learning is a collection of 15 puppet scripts and 5 articles on the subject of success with puppet ministries. The articles and scripts have been written by Dr. Ann Shorb and the book is available for purchase as a paperback, or as a PDF download.