JOHN 15:5 (NKJV)
"I am the vine, you are the branches. He who abides in Me, and I in him, bears much fruit; for without Me you can do nothing."
Take a moment and think of the great leaders in the Old Testament. Who comes to mind? Moses, Esther, David, Jeremiah, Samson, Gideon? It's interesting that every one of them, at some point in life, suffered from feelings of inadequacy and inferiority; he/she didn't feel capable of doing the job God gave him/her to do. As they learned to lean on Him, God provided all that they needed to do His work and accomplish His purposes.
In the New Testament we read of other great heroes of the faith. Peter, James, John, and other followers of Christ experienced the same thing. Even the great apostle Paul who knew well the teachings of the Law and the prophets, and could quote the promises of God, realized that all of that was nothing without the power and grace of God at work in his life, (2 Corinthians 12:9-10).
We as humans often recognize our own inabilities–and if we don't see them, someone else is usually quick to point them out for us! That can paralyze us and leave us totally ineffective in living for the King. The good news is that Jesus Christ Himself has given us His Holy Spirit to empower and enable us to do everything He calls us to do. The bad news is that often we turn to other resources such as our own knowledge, worldly wisdom, finances, material possessions, or our own physical strength and beauty to meet our needs. These things can never do it!
If we want to live a life that is truly effective in doing God's work, in pleasing and glorifying Him, resulting in having His joy, we must get rid of all pride and self efforts and turn to Him. He alone is our strength, our wisdom, our guide, our stabilizer, our empowerment. He is the vine from which we as the branches draw all strength. He is truly our enabler.
Prayer: Lord, I know that in myself I can do nothing. Let me never forget, though, that with You all things are possible.
Words to Ponder: "The first step in living the true Christian life is that I must acknowledge that I cannot live the Christian life in my own strength or my own goodness." —Francis Schaeffer, Theologian and Philosopher
By Ann Shorb
©Copyright, Ann Shorb, 2013
Scripture taken from the New King James Version. Copyright © 1982 by Thomas Nelson, Inc.  Used by permission.  All rights reserved.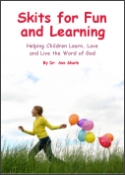 Skits for Fun and Learning
Skits for Fun and Learning is a collection of 15 puppet scripts and 5 articles on the subject of success with puppet ministries. The articles and scripts have been written by Dr. Ann Shorb and the book is available for purchase as a paperback, or as a PDF download.