In the last year, God has put together a multi-talented team of counselors at CCES. I've been blessed by the writings of several of our new counselors, and want you to share in that blessing, too. So I've decided to feature the writing of one of our staff members each month. Below is a devotional written by Heather Anne. I know you'll enjoy it.
Deuteronomy 30:19b NIV
This day I call heaven and earth as witnesses against you that I have set before you life and death, blessings and curses. Now choose life . . .
During Christmas break of my junior year in college, I was visiting a friend in North Carolina for about a week. We had a wonderful time and stayed up late visiting every night. When it came time to travel to my home in Pennsylvania at the end of the week, we were exhausted! So we made an agreement that while one person drove, the other would talk to keep the driver awake; then we would switch. During my "talk time� I read from a book and shared some thoughts about the upcoming semester. Then it was my turn to drive.
The route was not difficult. All I had to do was turn north onto a major interstate highway; however, when the intersection arrived, my friend was asleep and I was fighting to keep my eyelids open. I made the turn onto the interstate and headed towards home. I allowed myself to relax as I drove for more than an hour. It wasn't until my friend woke up to a sign that read "Welcome to Tennessee" that we knew we weren't where we wanted to be. The only logical answer was that I had turned south onto the interstate instead of turning north so many miles ago. One bad decision and I was further from my goal than ever.
The same can be true as we make decisions in life. One choice made in poor judgment can lead to an unwanted consequence . . .
I know God says no sex before marriage, but we are in love.
No one will know if I fudge the numbers on this tax form.
He's not a Christian now, but he will change once we are married.
We choose our option; then we head down our path. Our choices will determine our destination.
The wonderful truth of God is that we are able to turn our lives around and begin to make good choices. First we must recognize that we are headed in the wrong direction, and then we must seek guidance from God's life map, the Bible. Where are you headed? What is your ultimate destination? Are you traveling in the right direction, or have you turned off course somewhere? What choices have you made?
By Heather Anne Kehr
You can read Heather Anne's blog here.
Heavenly Father, help me to remember that while I can make my own choices, I cannot always determine the consequences. May Your Word always be the lamp to my feet and the light to my path.
Copyright Ann Shorb, 2008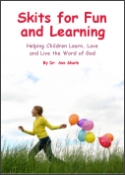 Skits for Fun and Learning
Skits for Fun and Learning is a collection of 15 puppet scripts and 5 articles on the subject of success with puppet ministries. The articles and scripts have been written by Dr. Ann Shorb and the book is available for purchase as a paperback, or as a PDF download.