JAMES 1:17
Every good and perfect gift is from above, coming down from the Father of the heavenly lights.
As I look around me today, I see that I am blessed, yet I am keenly aware that any and all of my blessings could be taken from me at any moment.  I'm reminded of a dear friend whose recent diagnosis of MS robs her of hopes and dreams for the future.  And I see another friend swirling in the aftermath of losing a job of nearly 30 years.  Recently I sat with a lady whose son was killed in an accident.  Her heartbreak and loss continue day after day and hour after hour.  The truth is that all we have is not ours, but belongs to God, and we must live with open hands, ready to hand to Him anything and everything we possess at any time.
Yes, all I have belongs to God.  I haven't earned it nor do I deserve it.  These things are gifts given to me and I am the only the caregiver, the steward, to watch over them and use them wisely.  When and if God allows these things to be removed from me, it is as if I simply hand them back to Him for He knows best.  But in the giving there is often pain, hurt, sorrow, doubt and fear for sometimes I do not understand His ways.  Even though I cannot comprehend His plan, I can trust Him for He is my loving heavenly Father.  So I trust with open hands—and yield with an open heart.
Christian author and musician Sheila Walsh puts it this way, "When our dreams seem to go sour or remain unfulfilled, hopelessness can dominate our lives—or we can hold on with open hands, knowing that we have hope because God is faithful," (from Life is Tough, But God is Faithful).
Loving Father, help me always to keep my hand and my heart open to You, knowing that Your love will protect, provide and prevail  in every situation.  Truly, Father, You are faithful.
By Ann Shorb
©Copyright Ann Shorb, 2009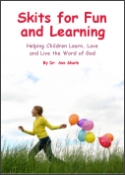 Skits for Fun and Learning
Skits for Fun and Learning is a collection of 15 puppet scripts and 5 articles on the subject of success with puppet ministries. The articles and scripts have been written by Dr. Ann Shorb and the book is available for purchase as a paperback, or as a PDF download.