JAMES 4:14 (NKJV)
For what is your life? It is even a vapor that appears for a little time and then vanishes away.
EPHESIANS 5:15 (NKJV)
See then that you walk circumspectly, not as fools but as wise, redeeming the time, because the days are evil.
Dr. Benjamin Elijah Mays was an outstanding man. Born in 1894, he lived until 1984 and accomplished in his lifetime more than most of us will ever imagine. He was a minister of the Gospel, an educator, author, speaker, college president, and civil rights activist. One of the reasons Dr. Mays was so successful was that he knew and lived out the calling of God on his life, and used his days, hours and minutes to accomplish His purposes.
Not one to waste time, he penned the catchy little poem that motivates us to regard and redeem our time.
Only Just a Minute
I have only just a minute,
Only sixty seconds in it.
Forced upon me,
Can't refuse it,
Didn't seek it,
Didn't choose it,
But it's up to me to use it.
I must suffer if I lose it,
Give an account if I abuse it.
Just a tiny little minute,
But eternity is in it.
Dr. Mays knew the value of practicing good time management. It doesn't mean getting up as early as you can and going as fast as you can to accomplish all that you can in a day, but it does mean being intentionally selective about the things you do.
In essence, when you learn to manage your time, you learn to manage your life. Ask God for wisdom and discernment so that you will use the minutes and seconds of this new year in ways that will be pleasing to Him and will help you fulfill His calling for your life.
PRAYER: Divine Father, as I seek to use my time wisely, I need Your help and direction. Let me see clearly Your plan for my life. Keep me focused on walking moment by moment on Your path.
WORDS TO PONDER: "There is no going back, no drawing against tomorrow. So, invest your seconds wisely in an effort to bring forth fruit for the Lord's Kingdom."
–The Gospel Gazette, February 2003
By Ann Shorb
©Copyright Ann Shorb, 2015
Scripture taken from King James Version. Copyright © 1982 by Thomas Nelson, Inc.  Used by permission.  All rights reserved.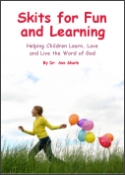 Skits for Fun and Learning
Skits for Fun and Learning is a collection of 15 puppet scripts and 5 articles on the subject of success with puppet ministries. The articles and scripts have been written by Dr. Ann Shorb and the book is available for purchase as a paperback, or as a PDF download.