I JOHN 4:16 (NKJV)
And we have known and believed the love that God has for us. God is love, and he who abides in love abides in God, and God in him.
The face that sat across from me was sad. The body was slumped and seemed hopeless. For years this woman walked in shame and despair feeling that no one—not even God—could really love her. She knew that He loved others, but she just couldn't believe that He could really love her.
It's a tragic story, but past or present abuse of any type often causes a person feel to unworthy of love. Sometimes it's because she's actually been told repeatedly, "You're worthless, and no one could ever love you." Insecurities, self-condemnation, guilt (whether real or false), shame, and self-loathing can actually make believing in and personally accepting God's love nearly impossible.
The writer of I John, an apostle of the Lord Jesus Christ, tells how to overcome these negative beliefs and begin to experience the warmth of God's love in her/his own soul. This little epistle speaks of God's light, His love, and the life He gives to those who trust Him. In fact, John even tells us that God IS light, love, and life and He gives those gifts to ALL who believe in and follow Him. The person who feels unlovable must repeatedly challenge Satan's lies with the truth of God's Word.
Look at what He's given us in nature.
Since the creation of the world His invisible attributes are clearly seen, being understood by the things that are made . . . (Romans 1:20 NKJV)
In nature we see His loving kindness in providing ALL of us with beauty and bounty that supply our needs—and that includes the one who feels unlovable!
Listen to what God says to you in His Word
By this we know love, because He laid down His life for us. (I John 4:16 NKJV)
And if anyone sins, we have an Advocate with the Father, Jesus Christ the righteous, and He Himself is the propitiation for our sins, and not for ours only but also for the whole world. In this the love of God was manifested toward us, that God has sent His only begotten Son into the world that we might live through Him. In this is love, not that we loved God, but that He first loved us and sent His Son to be the propitiation for our sins. (I John 4:9-10 NKJV)
The gift of forgiveness and salvation is offered to ALL people. Christ died to pay the penalty for all sins for all people—and that includes the one who feels unworthy!
Learn from what He's done for you in the past.
He also brought me up out of a horrible pit, Out of the miry clay, And set my feet upon a rock, And established my steps . . . Many, O LORD my God, are Your wonderful works Which You have done; And Your thoughts toward us Cannot be recounted to You in order; If I would declare and speak of them, They are more than can be numbered. (Psalm 40:2, 5 NKJV)
God's goodness is showered upon every one of us every day, but sometimes our hardships overshadow and hide these from our view. When we intentionally look for and acknowledge the blessings He has given us along life's journey, we can believe, "Ah, yes, He loves ME!"—even the one who feels forgotten.
Truly His light, His love, and His life are available to all of us, if we only believe!
PRAYER: Gracious Heavenly Father, help those who feel unlovable to see and experience the warmth of Your love today. Let the truth of Your grace and the assurance of Your presence be real in their lives as never before.
WORDS TO PONDER: "God is love . . . Love is more than just words; it is actions. Love is giving, not getting. Biblical love is unconditional in its nature. Christ's love fulfilled those qualities and when that brand of love characterizes us, we will be free of self-condemnation and experience confidence before God."
–Introductory note to I John in The Holy Bible, The New King James Version published by Broadman & Holman Publishers, Nashville, Tennessee ©1988
By Ann Shorb
©Copyright, Ann Shorb, 2016
Scripture taken from the New King James Version. Copyright © 1982 by Thomas Nelson, Inc.  Used by permission.  All rights reserved.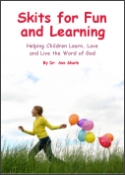 Skits for Fun and Learning
Skits for Fun and Learning is a collection of 15 puppet scripts and 5 articles on the subject of success with puppet ministries. The articles and scripts have been written by Dr. Ann Shorb and the book is available for purchase as a paperback, or as a PDF download.