2 PETER 3:18 (KJV)
But grow in grace, and in the knowledge of our Lord and Savior Jesus Christ. To Him be glory both now and for ever. Amen
Most often when I read II Peter 3:18, my focus goes to growing in Christ and deepening my relationship with Him, but recently I stumbled on a quote that made me pause and examine Peter's use of the little phrase "our Lord and Savior Jesus Christ". It's amazing how incredibly those four little words point to the multiple relationships Peter had with the Lord—and the same can apply to every true believer in Christ. Look at what each word in that one little phrase implies:
Our — That is personal. Christ belongs to a specific group; He belongs to me. He's me personal Friend.
Lord — Christ is my Master, my Teacher and the One I follow and obey.
Savior — He is my Redeemer and Rescuer who takes me from the old way of
life to a new one.
Jesus — His human name reminds me that He really lived on earth so He knows the struggles and difficulties I face. He is my Brother.
Christ — He's my Messiah, the Promised One sent from God who is worthy of all praise.
Because of Jesus, Peter's life was changed! Once a rough and impetuous fisherman, Peter became a great evangelist and the first one to preach the gospel to the Gentiles. He who once denied the Savior became a dedicated follower and friend who later willingly laid down His own life for the Master.
How would you describe your relationship with the Lord and Savior Jesus Christ? Is He a personal friend? Is He the Master whom you follow and obey? Has He taken you from the old to a new way of life and become your Redeemer? Do you know that He knows and helps you through your struggles? Do you see Him as the One sent from God who is worthy of all praise?
As theologian J. Niebor has well said of Peter, "He obeyed Him as Lord, he loved Him as Saviour, he adored Him as the greatest human, Jesus, he worshipped Him as the mighty anointed Son of God, Christ," (from Walk Through the Bible, by J. Vernon McGee)
Peter's one little phrase is certainly full of meaning for him and for all believers. Knowing and feeling all of this, then Peter breaks forth in praise—"To Him be glory for now and forever!" And we should praise Him, too!.
PRAYER: Lord Jesus, we praise You and bless Your Holy name for being able to know you in so many different ways.
WORDS TO PONDER:
Bless the LORD, O my soul,
And forget not all His benefits:
Who forgives all your iniquities,
Who heals all your diseases,
Who redeems your life from destruction,
Who crowns you with lovingkindness and tender mercies,
Who satisfies your mouth with good things,
So that your youth is renewed like the eagle's.
–King David, Psalm 103:2-5 (NKJV)
By Ann Shorb
©Copyright Ann Shorb, 2015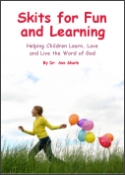 Skits for Fun and Learning
Skits for Fun and Learning is a collection of 15 puppet scripts and 5 articles on the subject of success with puppet ministries. The articles and scripts have been written by Dr. Ann Shorb and the book is available for purchase as a paperback, or as a PDF download.