JOSHUA 24:24
And the people said to Joshua, "The LORD our God we will serve, and His voice we will obey."
You'd think they would have been complaining or clamoring to get free.  It wasn't fair!  After all, they were two men of God, doing His work, preaching good news, and promoting peace, and then they were thrown in jail!  But instead of complaining and clamoring Paul and Silas were singing hymns to God and praying.  There in the midnight hour of the darkest days of their lives, through their songs they spoke of God, and with their prayers they spoke to God.
Those around couldn't help hearing the commotion, and it was abundantly clear to the other prisoners and the guards that these men had not a speck of self-pity, nor a sliver of sorrow, and not one ounce of regret about what was going on in their lives.  Why?  Because they knew they were right where God wanted them to be.  Paul and Silas obeyed all that God directed them to do, and they trusted Him to be faithful to carry out His plan in them, through them, and for them.
Paul and Silas knew the secret of overcoming anxiety and fear.  They made the choice to serve God and obey His commands, but their obedience wasn't truly the foundation of their faith in God.  It was His faithfulness to them as time and time again they witnessed God's hand at work in their lives and in their ministry.  They saw Him meet their needs, provide direction for their journey, and they felt His never-leaving presence.  It was knowing that He could be trusted to give them all they needed for their every need.  You can read their story in Acts 16.  It's a story of obedient men and a very faithful God.
Faithful Father, Your word is a great reminder of Your faithfulness to work in the lives of those who love and obey you.  Help us, Lord, to be aware of Your current work in our lives so that we may have confidence and boldness in You.
By Ann Shorb
©Copyright Ann Shorb, 2010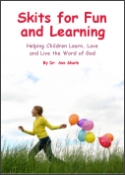 Skits for Fun and Learning
Skits for Fun and Learning is a collection of 15 puppet scripts and 5 articles on the subject of success with puppet ministries. The articles and scripts have been written by Dr. Ann Shorb and the book is available for purchase as a paperback, or as a PDF download.