I CHRONICLES 16:11 (KJV)
Seek the LORD and his strength, seek his face continually.
Things just didn't go right last week! It started on Monday morning when I poured hot tea in my stainless steel mug and it came out the bottom! It went from bad to worse through the whole week–a speeding ticket (my first ever!), bad news from a friend, problems with the flooring in my home, a big business disappointment, difficulties for my family, and my own personal physical problems. Everything seemed to go wrong!
Thankfully, right after my very rough Monday morning, the books in my library needed to be arranged and God used that little chore to give me an extra boost that stayed with me through the rest of the difficult week. It's hard for me to put books on the shelf without rummaging through most of them. In fact, the only one I easily managed to move without opening at all was my dictionary! It amazed me how things I previously underlined stood out to me that morning. Here are some of the nuggets of assurance and hope the Lord handed me as I thumbed through the pages of my books:
Psalm 139:17-18 (KJV)
How precious also are thy thoughts unto me, O God! how great is the sum of them! If I should count them, they are more in number than the sand: when I awake, I am still with thee.
Psalm 37:3-5 (NKJV)
Trust in the LORD, and do good;
Dwell in the land, and feed on His faithfulness.
Delight yourself also in the LORD,
And He shall give you the desires of your heart.
Commit your way to the LORD,
Trust also in Him,
And He shall bring it to pass.
Isaiah 43:19 (NKJV)
Behold, I will do a new thing,
Now it shall spring forth;
Shall you not know it?
I will even make a road in the wilderness
  And rivers in the desert.
Psalm 119:105 (NKJV)
Your word is a lamp to my feet
And a light to my path.
2 Corinthians 9:8 (NKJV)
And God is able to make all grace abound toward you, that you, always having all sufficiency in all things, may have an abundance for every good work.
Hebrews 13:5-8 (NKJV)
Let your conduct be without covetousness; be content with such things as you have. For He Himself has said, "I will never leave you nor forsake you." So we may boldly say:
      " The LORD is my helper;
      I will not fear.
      What can man do to me?"
Jesus Christ is the same yesterday, today, and forever.
Matthew 28:20 (NKJV)
. . . lo, I am with you always, even to the end of the age."
What precious thoughts! God is with me and God is for me! He will never leave me! No matter how difficult things may be, I simply need to seek His face and He is there providing all I need for every need. Even when I don't see or feel Him, I know He is there.
Thank You, Lord, for giving me reminders of hope that I could carry with me all week long. It helped to remember Your faithfulness and love when the hard things of life came my way.
By Ann Shorb
©Copyright Ann Shorb, 2011
*Scripture taken from the New King James Version. Copyright © 1982 by Thomas Nelson, Inc.  Used by permission.  All rights reserved.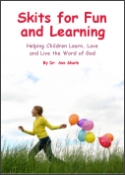 Skits for Fun and Learning
Skits for Fun and Learning is a collection of 15 puppet scripts and 5 articles on the subject of success with puppet ministries. The articles and scripts have been written by Dr. Ann Shorb and the book is available for purchase as a paperback, or as a PDF download.