I Timothy 2:1-4 (NKJV)
Therefore I exhort first of all that supplications, prayers, intercessions, and giving of thanks be made for all men, for kings and all who are in authority, that we may lead a quiet and peaceable life in all godliness and reverence. For this is good and acceptable in the sight of God our Savior, who desires all men to be saved and come to the knowledge of the truth.
With the U.S. presidential election just days away, the question on everyone's mind is, "Who's going to win?" Will it be Hillary Clinton? Donald Trump? No one knows for sure at this moment, but it won't be long until we find out.
Christians are concerned about the upcoming change in leadership and what it will mean for our economy, our courts, the overall moral climate in our land, and especially for our religious freedoms. And rightly so. These are big issues, but the apostle Paul told us what we are to do with our concerns. He made it very clear that Christ's followers have an obligation to pray for all those in authority—and Paul didn't make that statement as a suggestion, it was a command. Clear, concise, and direct, his words are unmistakable and undeniable, "Pray for those in authority."
Right now, prayer meetings and rallies are being held all over the country, asking for God's hand to be at work in this election. Meetings of this type started months ago and it has been exciting to see so many Christians seeking God's intervention and direction for our country. But what happens after the election? Will we stop praying? According to Paul, there is no expiration date on how long we are to pray for our leaders.
Evangelist Franklin Graham says, "No matter who wins, our ongoing job as Christians is to make the impact of Christ felt in every area of life—social, religious, political, and economic. We must not attempt to do this in our own strength or wisdom. We can only do it as we surrender ourselves completely to God, allowing Him to work in and through us. Be sure you do vote, and then stay active in your community. Be an advocate for God's truth and for His righteousness.
"We can't stop praying for our nation and its leaders . . . It doesn't matter what position in government they hold or which party a leader represents—pray for them."
PRAYER: Almighty God, our country needs You! We plead with You now to touch the hearts and minds of current leaders and those who will soon come into office. Lord, open their eyes to Your truth so they may see and put their trust in Christ and then live according to Your Word. Guide them as they make decisions, and work through these officials to further Your Kingdom.
WORDS TO PONDER: "For American Christians, I believe it's time to take our emotions to the Lord in prayer and worship. Focus on His divine attribute of faithfulness and goodness. Meditate on His sovereignty. Recognize Christians have an eternal hope in Christ."
–Jim Daly, Focus on the Family, June 2015, e-newsletter.
©Copyright, Ann Shorb, 2016
Scripture taken from the New King James Version. Copyright © 1982 by Thomas Nelson, Inc.  Used by permission.  All rights reserved.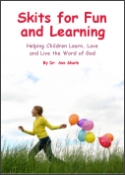 Skits for Fun and Learning
Skits for Fun and Learning is a collection of 15 puppet scripts and 5 articles on the subject of success with puppet ministries. The articles and scripts have been written by Dr. Ann Shorb and the book is available for purchase as a paperback, or as a PDF download.