PROVERBS 3:5-6 (NKJV)
Trust in the Lord with all your heart,
And lean not on your own understanding;
In all your ways acknowledge Him,
And He shall direct your paths.
2 SAMUEL 22:31 (NKJV)
As for God, His way is perfect; The word of the Lord is proven; He is a shield to all who trust in Him.
Sitting at the red light, my eyes fixed on the bumper sticker on the car in front of me. I smiled when I read "No matter what, trust God." It fit with the Bible study I was doing, and it was a good reminder for everyone who saw it that God is in control. No matter what a day may hold, trusting God is essential for peace, security, happiness and joy.
Trust God . . .
No matter if the pipes are leaking . . .
No matter if the car is totaled . . .
No matter if the doctor says, "Its cancer" . . .
No matter if your marriage falls apart . . .
No matter if your loved one dies . . .
No matter if your checking account is empty . . .
No matter what, trust God!
Trust His person and all that He is.
Trust His promises and all they provide.
Trust His plan and the way that He leads you.
Trust His process to work in His own time, in His own way.
No matter what, trust God!
A month ago as part of our "Facing Tomorrow Without Fear" devotional series, you were encouraged to keep a journal of the things God was doing in your life, and for 30 days record His acts of faithfulness. (Facing Tomorrow Without Fear – Part 4) If you did, I'm sure you are blessed as you read through those writings. If you didn't, it's not too late to start. God's hand is always at work in our lives, and the more we recognize and acknowledge that, the more we can trust Him—no matter what!
Prayer: Heavenly Father, trusting You to know what You are doing, and to do it for my good is hard. Help me to trust You with all my cares and concerns.
Words to Ponder:
"Simply trusting every day,
Trusting through a stormy way;
Even when my faith is small,
Trusting Jesus, that is all."
–from the hymn Trusting Jesus by Edgar P. Stites
By Ann Shorb
©Copyright, Ann Shorb, 2013
Scripture taken from the New King James Version. Copyright © 1982 by Thomas Nelson, Inc.  Used by permission.  All rights reserved.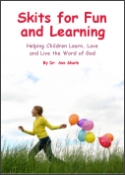 Skits for Fun and Learning
Skits for Fun and Learning is a collection of 15 puppet scripts and 5 articles on the subject of success with puppet ministries. The articles and scripts have been written by Dr. Ann Shorb and the book is available for purchase as a paperback, or as a PDF download.