MICAH 7:19 (NKJV)
He will again have compassion on us
And will subdue our iniquities.
You will cast all our sins
The lesson in Bible study this week focused on forgiveness. That's always a challenging lesson! As I studied it I was reminded of the tremendous gift God gives us when He forgives our sins. Those offenses will separate us from God eternally, unless we accept the gift of salvation He offers to us through Jesus Christ, His Son, but once we do, He disposes of them, never to be dragged up again. That's amazing!
In The Gospel for Real Life, Jerry Bridges says of the metaphor given in Micah 7:19 "The picture is of God vigorously disposing of our sins by hurling them overboard. He doesn't just drop them over the side; He hurls them as something to be rid of and forgotten."
As humans, we tend to want to hang on to the hurts and offenses against us, but God doesn't. When we call on Him to forgive, He flings all our sins viciously into the depths of the sea where they are no more to be seen. Corrie Ten Boom, survivor of the holocaust, often said, "And then, God put up a sign that says, 'No fishing allowed'."
And because He has disposed of them, I no longer have to live with the guilt and shame of my sin. What a relief! Like the little chorus says, "Gone, gone, gone, gone! Yes, my sins are gone . . . Praise God, my sins are gone!"
By Ann Shorb
PRAYER: Forgiver of My heart, I praise You for the freedom I find in Your amazing gift of forgiveness.
RELATED DEVOTIONAL: God's Love Forgives
Copyright Ann Shorb, 2014
Scripture taken from the New King James Version. Copyright © 1982 by Thomas Nelson, Inc.  Used by permission.  All rights reserved.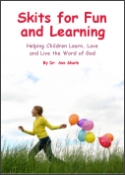 Skits for Fun and Learning
Skits for Fun and Learning is a collection of 15 puppet scripts and 5 articles on the subject of success with puppet ministries. The articles and scripts have been written by Dr. Ann Shorb and the book is available for purchase as a paperback, or as a PDF download.