Malachi 3:6
For I am the Lord, I do not change.Hebrews 13:8 Jesus Christ is the same yesterday, today, and forever. (KJV)
Autumn was always my mother's favorite time of year. She loved watching the leaves turn from deep green to gold, orange and red. Something about it was always very thrilling to her. Many people have that special likeness for fall. It is a wonderful time of year because we see so vividly the changes in creation around us.
But you know, our world and everything in it is constantly changing. Political leaders change, governments change. Clothing styles and trends come and go. Relationships wax and wane. Our bodies mature. Even the very earth itself shifts and moves constantly. Yes, we live in a world of change! That can be frightening at times.
In the midst of this ever-changing world, it's a real comfort to me to know that I have a never-changing God. Malachi 3:6 says, "For I am the Lord, I do not change. The word used for "Lord" here is "Jehovah." "I am Jehovah. I am God. I am the One who has all you need. I never change," He tells us with these words.
In the New Testament, Hebrews 13:8 says, "Jesus Christ is the same yesterday, today, and forever." God the Father, God the Son and God the Holy Spirit are never changing. Even in the midst of our ever-changing world we serve a never-changing God. His love never changes. His mercy never changes. His goodness never changes. His ability to provide and meet needs never changes. His holiness, His justice . . . none of it changes! Not one bit!
The next time you get discouraged, stop and think for a moment. No matter what else changes around you, God in all His greatness and might and majesty will never change. In an ever-changing world, He is a never-changing God.
Blessed Father, it is such a comfort to know that You are constantly and consistently the same. Thank You for the security that brings to my heart and mind as I experience the many changes of day to day living.
By Ann Shorb
©Copyright Ann Shorb, 2006
*Scripture taken from the King James Version.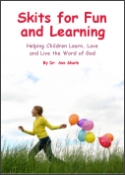 Skits for Fun and Learning
Skits for Fun and Learning is a collection of 15 puppet scripts and 5 articles on the subject of success with puppet ministries. The articles and scripts have been written by Dr. Ann Shorb and the book is available for purchase as a paperback, or as a PDF download.