By Jane Hull, CCES Staff Member
MATTHEW 7:24-25
Therefore everyone who hears these words of mine and puts them into practice is like a wise man who built his house on the rock.  The rain came down, the streams rose, and the winds blew and beat against that house; yet it did not fall, because it had its foundation on the rock. (NIV)
In August, our family traveled to South Carolina for our daughter's wedding.  She has always wanted an outdoor wedding and she and her fiancé reserved a beautiful park and pavilion for the ceremony and reception.  Amazing as this may seem, that is prime hurricane season in the south.  True to expectation, a hurricane was brewing off the coast the week before the wedding.  Thankfully, it became a tropical depression instead and provided a lot of much needed rain to the area.
When we arrived in South Carolina, the forecast for the weekend was nothing but sunshine!  What seemed like a million details and last minute preparations commenced for the Saturday afternoon event.  All the women from the wedding party as well as my family dressed and primped at the hotel where we were staying.  After a short ride to the wedding's location, my husband, son and I stepped out of the van and began walking toward the area where the ceremony was to be held.
Not a frequent wearer of high heels, I was really concentrating on walking gracefully.  To my utter surprise and horror, each step I attempted on the soft ground found my heels sinking down into it!  The feeling of shock and disbelief turned to panic at one point as some sort of suction thing started happening with both heels!  Other attempts at scooting, slithering and tiptoeing were not working, either.  Grabbing hold of my husband and son, I was finally able to navigate with more confidence and success.
How neat the scriptural picture that came to my mind from Matthew 7:24-27's account of the wise man and the foolish man.  No doubt, the foolish man EXPECTED the sand to hold him, too.  And it didn't matter how great the foolish man looked, or how happy he was, or even how wonderful his dreams were.  What counted was the foundation.  He needed the rock.  After all the distractions life has to offer, what really counts IS the foundation.  What is your life's foundation?  What are you standing on each day?
"On Christ the solid Rock I stand, all other ground is sinking sand; all other ground is sinking sand."
Heavenly Father, help me to be the wise woman, building on Christ the solid Rock.
By Jane Hull
Copyright Jane Hull, 2009
Scripture taken from the New International Version.  Copyright 1990 by The Zondervan Corporation.  Used by permission. All rights reserved.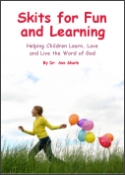 Skits for Fun and Learning
Skits for Fun and Learning is a collection of 15 puppet scripts and 5 articles on the subject of success with puppet ministries. The articles and scripts have been written by Dr. Ann Shorb and the book is available for purchase as a paperback, or as a PDF download.