PHILIPPIANS 4:9 (KJV)
Those things, which ye have both learned, and received, and heard, and seen in me, do: and the God of peace shall be with you.
October is National Apple Month! Our area of south central Pennsylvania is big apple country. Every weekend this month there are special events and festivals celebrating the apple harvest, so I'm joining the festivities and sharing with you some interesting apple facts this month.
Jonathan Chapman, better known as Johnny Appleseed, was born into the home of a poor farmer-carpenter in 1774, when America was young. Jonathan devoted his life to simple living and planting apple seeds wherever he went. He had an uncanny ability to predict the path of westward expansion, so he went ahead of pioneers planting apple trees and developing nurseries so they would be ready when the settlers arrived. His contribution provided fruit for pies, dumplings, and stews. Apple sauce and apple butter became sweet treats for the winter season, and women used apple vinegar for pickling and preserving. Apple cider and apple brandy were used for drinking and medicinal purposes, and as one of the first cash exports for the settlers. Truly, Chapman had a unique way of serving God, helping others, and building his country as America grew and the pioneers settled in the Midwest.
But Jonathan Chapman planted other things, too, particularly medicinal herbs and flowers. More importantly, he planted the seeds of God's Word and encouraged others toward holy living. His well-worn Bible and religious tracts traveled with him tucked inside his simple garment. Often he pulled them out and asked excitedly, "Will you have some fresh news right from Heaven?"
Because of his rugged lifestyle of living off the land, often in sackcloth and shoeless, Chapman was compared to John the Baptist as he traveled Pennsylvania, Ohio, Indiana and Virginia, planting trees and delivering the message of God. While he was known for tenacity, toughness, and a voice that bellowed religious messages, Chapman was also known for his kindness, generosity, and gentleness. His godly character won him respect from young and old, from white settlers and Native Americans. As a result, many religious communities grew up claiming that the witness of the eccentric frontiersman planted the first seed.
Jonathan Chapman was described as "a religious zealot for whom apple trees in their flowering were a living sermon from God." He was heard to say that if he knew the world would end tomorrow, he would still plant apple seeds today. Why? Because he knew that was his calling and he was determined to fulfill his purpose and to be faithful to his task.
Johnny Appleseed was more than just a legendary character. He was a real person, living out his passion and purpose in confidence and peace. God blessed his life, and He blessed others through him. What an example to follow! Rosemary Benet says in her poem entitled "Johnny Appleseed! Johnny Appleseed!" that truly, "Jonathan Chapman was God's own man."
Heavenly Father, direct my steps today and help me plant the seeds of kindness, gentleness and generosity wherever I go. May I be bold in sharing Your Word, and faithful in fulfilling the task You've given me to do.
By Ann Shorb
©Copyright Ann Shorb, 2012
Scripture taken from the King James Version of The Holy Bible.
Be sure to check out Rod Hemphill's Halloween article on our website:
Download the PDF for Halloween: Spoof, Spooked or Spiritual Service?
View the article as a standard web page.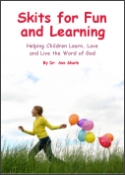 Skits for Fun and Learning
Skits for Fun and Learning is a collection of 15 puppet scripts and 5 articles on the subject of success with puppet ministries. The articles and scripts have been written by Dr. Ann Shorb and the book is available for purchase as a paperback, or as a PDF download.