PHILIPPIANS 4:13
I can do all things through Christ who strengthens me.
After returning from a couple of days away from home, I placed my laptop computer in its usual spot on my desk. I pulled out the cord,plugged it into the computer, turned it on, and went to work writing my papers.
An hour later, that pesky little notice popped up saying, "Your battery is low. You only have 12% power remaining. Plug into source of power or recharge to continue."
Shocked to see those words, I quickly glanced beneath my desk and discovered that, while I plugged one end of the cord into my laptop device, I failed to plug the other end into the electrical outlet. The laptop had been running on its own stored energy and that was nearly depleted. It needed help if it was going to continue to function. It needed another source of power.
How many times have I done that? How many mornings have my feet hit the ground running and never even noticed that I was not "plugged in to" the Lord?
As a believer, I feel confident that the Holy Spirit dwells within me, but when I blindly get up and start my day without seeking God's direction and help, I just plow into the tasks before me in my own strength. Eventually, I discover that I'm running out of resources. I need Him. My own strength just isn't enough to keep me going and producing anything good.
Without a doubt, God is the source of my wisdom. He is my patience. He is the provider of my ideas and understanding. He alone is the source of my power, and I can do all things through Him.
PRAYER: Almighty God, I need your help. Please endow me with physical, mental, emotional, and spiritual strength for each challenge I face today so that I may do your will.
WORDS TO PONDER: The Lord is the strength of my life.
–King David, Psalm 27:2
By Ann Shorb
© Ann Shorb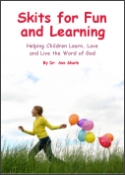 Skits for Fun and Learning
Skits for Fun and Learning is a collection of 15 puppet scripts and 5 articles on the subject of success with puppet ministries. The articles and scripts have been written by Dr. Ann Shorb and the book is available for purchase as a paperback, or as a PDF download.