EPHESIANS 2:10

For we are His workmanship, created in Christ Jesus unto good works, which God hath before ordained, that we should walk in them.
My purple quilted bag was a gift to me from ladies of Hampstead Baptist Church in Maryland when I spoke for their weekend retreat. One of the ladies in the group made it,  and she did a wonderful job. Every time I carry it someone remarks, "What a beautiful bag! I'd love to have one like that." I frequently hear ladies' comment, "What gorgeous workmanship!" It's fun to have a bag that's such a conversation piece.  While it's always nice to have something that others admire and enjoy, my prayer is that there are qualities in my life that are just as attractive to others as my purple quilted bag.
Ephesians 2:10 tells me I am God's workmanship, and that He gave me new life in Christ so that I could have a lifestyle of doing good works that show off His glory.  When I profess to be a Christian, whether I like it or not, others judge Christ by what they see in my life. The way I live, the good things I do (or don't do!), will be a reflection of how the Holy Spirit is working in my life.  Yes, His workmanship shows.
What a sobering thought! What do others see? Do they see me like the old, worn and tattered handbag that I used to carry?  If so, that's not a good reflection of the greatness of God. Or is my life beautiful and attractive like my new purple quilted bag? Will it attract others and point them to the Savior?
Blessed Creator, You fashioned me to live in such a way that others see Your great workmanship in my life.  Help me live that way today—and every day.
By Ann Shorb
© Copyright Ann Shorb, 2009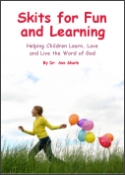 Skits for Fun and Learning
Skits for Fun and Learning is a collection of 15 puppet scripts and 5 articles on the subject of success with puppet ministries. The articles and scripts have been written by Dr. Ann Shorb and the book is available for purchase as a paperback, or as a PDF download.