EPHESIANS 6:18 (NKJV)
. . . praying always with all prayer and supplication in the Spirit, being watchful to this end with all perseverance and supplication for all the saints—
The journal I hold in my hand is a familiar old friend that has been with me a long time. The first entry was made September 2, 2003. Since that date, every Tuesday morning when our Bible study group meets, I pull out the old friend and record prayer requests from members of our group. We've prayed about spiritual needs, and sicknesses, and suffering loved ones. We've upheld missions trips, and moms with new babies. Thoughts have been lifted for students, travelers, those needing a new job, and for others who struggle in the one that they have. We've prayed for the elderly, the young, and those in between. It doesn't matter what we pray for, our faithful, loving Heavenly Father hears and answers our requests according to His perfect will—and for that we praise Him!
Sharing our needs and praises, and praying for one another binds us together and brings us to the throne of God. Week after week, month after month, year after year we've poured out our hearts to God and watched Him work in big and small ways to meet our needs. And then we rejoice together at His goodness and His grace. It's amazing! It's miraculous! It's just God being God and letting His children revel in His love.
This week I wrote on the last page of my prayer journal. This book is a history of the lives of our group members, and although my book is full, it's not the end of the story. I already have a new journal to replace the old one. Even though I have no idea what I'll write on these new pages, two things I know for sure. First, as believers, we need to pray for and sustain one another. Second, our God is faithful to hear and answer our prayers.
Our new Bible study starts soon—and it's going to be a good one! If you live in our area and you're free on Tuesday mornings, why not consider joining us? See below for details. Everyone is welcome!
Father, it amazes me that You never tire of hearing us come to You with our requests, and You never run out of strength or wisdom to meet our needs. Thank You for this gift of prayer that joins our hearts together as it draws us closer to You.
By Ann Shorb
©Copyright 2011, Ann Shorb
Scripture taken from the New King James Version. Copyright © 1982 by Thomas Nelson, Inc.  Used by permission.  All rights reserved.
New Bible Study Starts April 19th.
Into Abba's Arms: Seeing God as a Loving Father
Your images of God are critically important to your spiritual and emotional well being. These vital images are formed primarily by experiences in your family, and they affect how you feel about and respond to Him and to others. Seeing God through distorted lenses can interfere with your ability to relate openly with Him, and keep you from fully experiencing His love. Exchange your distorted images of God for a Biblically accurate picture of the One who loves and cares for you. Learn to rest in His arms!
Tuesdays, 9:30 to 11:00 A.M.
April 19 to June 7, 2011
Held at First Baptist Church, 217 Fulton St., Hanover, PA 17331
A donation of $12 is requested for materials. For information or registration contact CCES: 717-630-2255.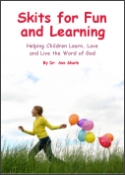 Skits for Fun and Learning
Skits for Fun and Learning is a collection of 15 puppet scripts and 5 articles on the subject of success with puppet ministries. The articles and scripts have been written by Dr. Ann Shorb and the book is available for purchase as a paperback, or as a PDF download.