PSALM 142:3 (NKJV)
When my spirit was overwhelmed within me, then You knew my path.
How reassuring and refreshing it was for the Psalmist to know that all along his journey, his way was being directed by the hand of God. Even when things were difficult, and David didn't know which way to turn, God knew and was working out details in his life.
We see this principle demonstrated in Old Testament account of Abram's life when God said to him, "Abram, I want you to go to a land where I'll send you." The man replied, "Where is that, God?" And God said, "Just trust and follow the way I direct you and I'll tell you when you have arrived." Abram followed God, and was directed to a place of blessing and honor.
In the story of Hagar, Abraham's servant who bore his child and was later thrown out of the family by her master's wife Sarah, we're reminded that God sees us no matter where we are. As she sat overwhelmed in the dessert thinking all she could do was give up and die and let her child die with her, in that barren place God saw Hagar and directed her path back to the place of Abraham's provision and protection.
In the New Testament, the Apostle Paul set sail for one place, but intense storms re-routed his course. In time, it became obvious that the change in direction was actually God's hand at work in the situation taking Paul on a new path, to a new place, to preach his new message of faith in Christ.
Are you overwhelmed by confusion?
by anxiety?
by job complications and frustrations?
by financial distress?
by relational failure or betrayal?
by physical illness?
by the loss of a loved one?
by staring death in the face yourself?
Whatever the cause of your distress, God knows where you are, He knows where He wants you to be, and He knows the path to get you from here to there.
Psalm 40:2 reminds us–
He also brought me up out of a horrible pit,
Out of the miry clay, (God saw where I was.)
And set my feet upon a rock, (He gave me stability)
And established my steps. (He set me firmly on a new path)
Surely Job knew the feeling of being overwhelmed. Having lost his vast wealth, all ten of his children, his reputation, and his health, he clung to the hand of his faithful God and said, "But He knows the way that I take; When He has tested me I shall come forth as gold." (Job 23:10, NKJV)
Come forth as gold, pure, precious, and polished? Yes, that promise is as true today for all those who trust God as it was for Job in all of his suffering. God knows, He cares, He provides, and He takes us to the place of victory even when we feel it is least likely to happen. He is the God who sees and who cares. Trust Him and stay on His path. Let nothing distract you and you will arrive at the place of joy and blessing.
PRAYER: Precious Father, how I thank You for the knowledge that when I trust You, You will direct my steps and lead me to the place of Your choosing. That's where I long to be. That's my destination.
READ RELATED DEVOTIONALS:
By Ann Shorb
Copyright Ann Shorb, 2014
Scripture taken from the New King James Version. Copyright © 1982 by Thomas Nelson, Inc.  Used by permission.  All rights reserved.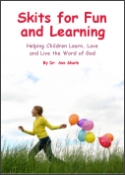 Skits for Fun and Learning
Skits for Fun and Learning is a collection of 15 puppet scripts and 5 articles on the subject of success with puppet ministries. The articles and scripts have been written by Dr. Ann Shorb and the book is available for purchase as a paperback, or as a PDF download.