PROVERBS 27:9 (NKJV)
A man that has friends must show himself friendly.
One of the richest treasures God has given me is my friends. Each one is a precious gem in his/her own way, and each one contributes something to my life. The exciting part is that God continues to add new gems to my treasure!
One of my newest friends is a gal who has been coming to our Tuesday morning Bible study. Recently I've been picking her up since I drive right by her home on my way to the group. As we talk, I hear her say repeatedly, "The Lord has been good to me. I'm so thankful for the things He's given me." You'd think she has a mansion for a home, and a million dollars in the bank, but she has neither.
I never hear this lady complain. She looks at her humble dwelling in the center of our little town as her mission field, because it is from there that she serves and shares with others. She shares her blessings, extra food and other items she has been given, and her time and energy in helping her neighbors. Through it all, she shares the love of God and her faith in Christ.
Every new friend is a gift from God, and I'm thankful for this new gem. From her, I'm learning lessons in humility and generosity that will help make me a better friend to others.
PRAYER: Thank You, Lord, for this new pearl that You've added to my treasure, and for the things I can learn from her.
WORDS TO PONDER: "Friendship is acting out God's love for people in tangible ways. We were made to represent the love of God in each other's lives, so that each person we walk through life with has a more profound sense of God's love for them."
–Shauna Niequist, Cold Tangerines: Celebrating the Extraordinary Nature of Everyday Life
RELATED DEVOTIONALS:
By Ann Shorb
©Copyright, Ann Shorb, 2016
Scripture taken from the New King James Version. Copyright © 1982 by Thomas Nelson, Inc.  Used by permission.  All rights reserved.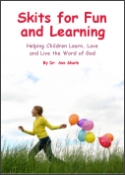 Skits for Fun and Learning
Skits for Fun and Learning is a collection of 15 puppet scripts and 5 articles on the subject of success with puppet ministries. The articles and scripts have been written by Dr. Ann Shorb and the book is available for purchase as a paperback, or as a PDF download.