ROMANS 8:28-29 (NKJV)
And we know that all things work together for good to those who love God, to those who are the called according to His purpose.
As she prepared her poems to be submitted for publication, Elizabeth Prentiss stared at one of the prayers she penned some years before in 1856. Surely she must have smiled as she realized she omitted the very last line when she wrote it because her hand just couldn't keep pace with her rushing thoughts that day.
From childhood, Elizabeth suffered greatly with physical pain and disability. While she was taught God's Word and believed Him to be true, by the time she was 38, her suffering grew to an unbearable level, and doubts about His love and care plagued her.
In her moment of greatest uncertainty, God's Spirit brought to Elizabeth's mind promises for Christ's constant presence and His sustaining grace. One after the other, these promises from His Word tumbled through her thoughts driving away hopelessness and fear, and replacing them with peace beyond what she had ever known. It was then that she grabbed her pencil and scribbled quickly the words to her now famous hymn, "More Love, O Christ, to Thee." Although written long ago in old English, the words reflect a heart of peace and tranquility that speak to us today.
MORE LOVE TO THEE
More love to Thee, O Christ,
More love to Thee!
Hear Thou the prayer I make
On bended knee;
This is my earnest plea:
More love, O Christ, to Thee,
More love to Thee,
More love to Thee!
Once earthly joy I craved,
Sought peace and rest;
Now Thee alone I seek,
Give what is best;
This all my prayer shall be;
More love, O Christ, to Thee,
More love to Thee,
More love to Thee!
Then shall my latest breath
Whisper Thy praise;
This be the parting cry
My heart shall raise;
This still it's prayer shall be;
More love, O Christ, to Thee,
More love to Thee,
More love to Thee!
The remaining 22 years of Elizabeth's life were still a struggle, but as her love and devotion to Christ grew, so did her peace and radiance. Without a doubt, she found her strength in loving Him.
PRAYER: Blessed Redeemer, what an inspiration Elizabeth Prentiss is even to this day! May we find Your presence and sustaining grace to help us through every trial as we seek to love You more.
WORDS TO PONDER: "To love Christ more is our deepest need. The constant cry of my soul, be it out in the woods, on my bed, out driving, or when I am happy and busy, sad and not able to do anything, the whisper of more love—more love—more love keeps filling my soul."
–Elizabeth Prentiss, Poet and Song Writer
RELATED DEVOTIONAL:
Dancing in the Rain
By Ann Shorb
©Copyright Ann Shorb, 2015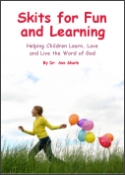 Skits for Fun and Learning
Skits for Fun and Learning is a collection of 15 puppet scripts and 5 articles on the subject of success with puppet ministries. The articles and scripts have been written by Dr. Ann Shorb and the book is available for purchase as a paperback, or as a PDF download.