JAMES 1:5 (NKJV)
If any of you lacks wisdom, let him ask of God, who gives to all liberally and without reproach, and it will be given to him.
You've noticed, I'm sure, that things aren't always what they appear to be, and that making decisions based on only a few facts can often get you in trouble. Have you heard the story about how the impulsive business owner handled his lazy employee?
The new owner of a large factory decided to make a surprise visit and check up on his staff. Walking though the plant, he noticed a young man leaning lazily against a post.

"Just how much are you being paid a week?" said the owner angrily.

"Three hundred bucks," replied the young man.

Taking out a fold of bills from his wallet, the owner counted out $300, slapped the money into the boy's hands, and said, "Here's a week's pay — now get out and don't come back!"  The boy grabbed the money and ran out.

Turning to one of the supervisors, he said, "How long has that lazy bum been working here anyway?"

"He's not an employee," said the supervisor. "He was just here to deliver a pizza!"
While it makes a funny story, the truth is, making impulsive decisions often leads to negative consequences. Had the new owner of the business taken the time to look more carefully at the situation and ask a few questions, he could have saved $300!
The Bible records a story about a man who started building a barn without thinking it through. Before he finished, he ran out of money and he never got the barn he wanted. His impulsive decision took him down the wrong path. If he had thought about it, prayed about it, and considered his options, he might have chosen a different way of doing things.
He might have re-designed the barn omitting some features so that it would be less expensive.
He could have waited until he had adequate finances.
Perhaps renting a barn would have been an option.
He could have questioned—"Do I really need this barn or just want the barn?" "Do I need it now?" If he only wanted it, the question should have been, "Why?" To look good? To have more things? To make me feel better than others? So others will accept me? None of these are good motives! If he needed the barn to store his grain for his livelihood or as an investment, those are valid reasons. Nothing else probably is!
So how do I keep from acting impulsively? There are five D's that can help tremendously!
DIVINE INTERVENTION
Pray and ask God to help you refrain from giving in to the desire to act immediately. Seek God's help.
DISTANCE
Get away from the thing you are about to give in to. Go somewhere else.
DELAY
Wait. Take an immediate break. Decide to come back later and see if you still want to make this choice. Do something else.
DISTRACT
Put your mind on some other activity or thought for the time being. Think about something else. Go do something else.
DAYDREAM
Picture yourself being successful at NOT giving in to this impulse. Imagine what it would be like to walk away in victory. See something else other than defeat.
You can avoid making impulsive decisions, but it takes intentional effort.  Take the time to stop, consider what you see, then ask questions about the things you cannot see.
Heavenly Father, You know my natural tendency is to jump to quick conclusions and act immediately. Help me to depend on You and Your Spirit to slow me down and think things through. Give me Your wisdom for the decisions make.
Download a PDF version of the 5 D's.
By Ann Shorb
©Copyright Ann Shorb, 2013
Scripture taken from the New King James Version. Copyright © 1982 by Thomas Nelson, Inc.  Used by permission.  All rights reserved.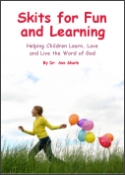 Skits for Fun and Learning
Skits for Fun and Learning is a collection of 15 puppet scripts and 5 articles on the subject of success with puppet ministries. The articles and scripts have been written by Dr. Ann Shorb and the book is available for purchase as a paperback, or as a PDF download.