TITUS 2:11-13 (NKJV)
For the grace of God that brings salvation has appeared to all men, teaching us that, denying ungodliness and worldly lusts, we should live soberly, righteously, and godly in the present age, looking for the blessed hope and glorious appearing of our great God and Savior Jesus Christ.
Every day we make hundreds of decisions. We see a situation, weigh the options, and make our choice on what to do. Sometimes our response doesn't really take any thought at all because we've done it so many times before. For example, this morning when I ate breakfast, I opened the drawer and pulled out a spoon. I didn't have to look at the entire tray of tableware and decide which utensil to use. I automatically pulled out the spoon—and I didn't even have to think whether to get a big one or a small one because I always use a large spoon to eat my cereal. I just reached in and pulled one out. It's a habit formed by repeated action over time.
As you well know, habits can be good or they can be bad. Good habits are helpful; bad habits are destructive in some way. The problem is, once we develop familiar ways of doing things, it's hard to change even if we know what we're doing isn't right or isn't good for us. Things like overeating, gossip, back-biting, arguing, anger, sarcasm, pornography, procrastination, or staying up too late are all harmful. Doing any of these things actually makes life harder for us! So why do we keep doing them?
In their book HABITS DIE HARD, authors Mac Anderson and John J. Murphy state:
"The subconscious mind—the habitual mind—is over one million times more powerful than the conscious mind. This means that we spend a substantial amount of our lifetime on 'autopilot,' playing out the mental programs that govern our behavior . . . The subconscious mind is so vast and so powerful that we do not even know what it is thinking or capable of. It truly runs our lives—whether we know it or not!"
Since the habitual mind is so powerful, we need to pay close attention to our habits and break free from those that are destructive, and make intentional choices to form new healthy, godly habits in the future. But how do we do that?
Realize that you have a choice in how you act and what you say. The Bible makes that clear: "Blessed is the man Who walks not in the counsel of the ungodly, Nor stands in the path of sinners, Nor sits in the seat of the scornful . . ." (Psalm 1:1).
Remember that you can't do this successfully on your own. "For I know that nothing good dwells in me, that is, in my flesh. For I have the desire to do what is right, but not the ability to carry it out," (Romans 7:25).
Recognize the power within you, and rely on the Holy Spirit to enable you to change. We are no longer slaves to the power of sin! "If the Spirit of him who raised Jesus from the dead dwells in you, he who raised Christ Jesus from the dead will also give life to your mortal bodies through his Spirit who dwells in you," (Romans 8:11).
Renew Your Mind. Ask yourself, "Why am I doing this?" Dig deep to discover the thoughts and feelings behind this behavior, then work on changing those thoughts. "Do not be conformed to this world, but be transformed by the renewing of your mind, that you may prove what is that good and acceptable and perfect will of God," (Romans 12:2). Changing behavior without changing your thinking never results in lasting change!
Replace the negative behaviors and words with positive actions and phrases. "Do not lie to one another, since you have put off the old man with his deeds,  and have put on the new man who is renewed in knowledge according to the image of Him who created him," (Colossians 3:9-10).
Refuse to go back to your old habits. "Forgetting those things which are behind and reaching forward to those things which are ahead, I press toward the goal for the prize of the upward call of God in Christ Jesus," (Philippians 3:13).
Release your need to control and submit to doing things God's way. "Therefore submit to God. Resist the devil and he will flee from you. Draw near to God and He will draw near to you. Cleanse your hands, you sinners; and purify your hearts, you double-minded," (James 4:7-8).
Run from the things that trigger or tempt you to give in to your old bad habit. Paul's message is applicable to all ages, "Flee also youthful lusts: but follow righteousness, faith, charity, peace, with them that call on the Lord out of a pure heart," (I Corinthians 10:14).
Remain persistent. Your habits were formed over time and it will take time to break them—but you can do it with persistence! Be stubborn! Don't give up! "I can do all things through Christ who strengthens me," (Philippians 4:13).
Is there a habit in your life that needs changing? There's no better time to start working on it than right now!
Prayer: Lord, make us aware of habits that are hurting us so that we may "live soberly, righteously and godly in this present age."
Words to Ponder: "We are what we repeatedly do. Excellence, then, is not an act but a habit." —-Aristotle
By Ann Shorb
Copyright Ann Shorb, 2013
Scripture taken from the New King James Version. Copyright © 1982 by Thomas Nelson, Inc.  Used by permission.  All rights reserved.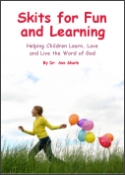 Skits for Fun and Learning
Skits for Fun and Learning is a collection of 15 puppet scripts and 5 articles on the subject of success with puppet ministries. The articles and scripts have been written by Dr. Ann Shorb and the book is available for purchase as a paperback, or as a PDF download.