I THESSALONIANS 4:1-2, 7 (NKJV)
Finally then, brethren, we urge and exhort in the Lord Jesus that you should abound more and more, just as you received from us how you ought to walk and to please God; for you know what commandments we gave you through the Lord Jesus . . . For God did not call us to uncleanness, but in holiness . . . But Concerning brotherly love you have no need that I should write to you, for you yourselves are taught by God to love one another; and indeed you do so toward all the brethren who are in all Macedonia. But we urge you, brethren, that you increase more and more . . .
In Ephesians 5:1-2, the apostle Paul commands believers in Christ to follow His example and walk in love so that we may be to the world around us a sweet-smelling aroma drawing them to the Savior. Interestingly, in his first letter to the people of Thessalonica, which was actually written before his words to the Ephesians, Paul instructs believers to walk in the love of Christ, specifically demonstrating His love to fellow believers. While that sounds easy enough, sometimes that can be a real task!
Bible teacher J. Vernon McGee commented, "Love for the brethren is an area for growth and development. Very candidly, some of the saints are not very lovely."
McGee goes on to quote a little poem:
"To dwell above with the saints in love
Oh, that will be glory.
But to stay below with the saints I know—
Well, that's a different story."
It's true that loving our fellow believers is sometimes harder than loving the world around us. We expect other Christians to act in godly ways. We want them to be kind, helpful, and unselfish. When they're not, we can be sadly disappointed and even find ourselves reacting inappropriately instead of responding in love. Thankfully, Paul reminds us that we have the indwelling Holy Spirit to aid and empower us in this great task, but it's up to us to seek and to use His help.
Let us live by the words of Paul, "Now to Him who is able to do exceeding abundantly above all we ask or think, according to the power that works in us, to Him be glory in the church by Christ Jesus to all generations, forever and ever. Amen. (Ephesians 3:20-21, NKJV)
PRAYER: Loving Father, help me to be loving to those around me, even when I don't feel like it, or I don't feel like they deserve it. By the power of Your Holy Spirit, let the words I speak and the things I do reflect Your glory.
WORDS TO PONDER: "A believer must have love for the brethren. It is a supernatural love that is taught of God . . . not a theoretical kind of love, not just an abstract term . . . but it must be love in the concrete. Such love can only be produced in the hearts of believers by the Holy Spirit.'
–J. Vernon McGee, Through The Bible with J. Vernon McGee
RELATED DEVOTIONAL:
A Sweet Aroma
By Ann Shorb
©Copyright 2015, Ann Shorb
Scripture taken from the New King James Version. Copyright © 1982 by Thomas Nelson, Inc.  Used by permission.  All rights reserved.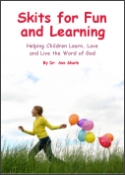 Skits for Fun and Learning
Skits for Fun and Learning is a collection of 15 puppet scripts and 5 articles on the subject of success with puppet ministries. The articles and scripts have been written by Dr. Ann Shorb and the book is available for purchase as a paperback, or as a PDF download.