JAMES 2:26 (KJV)
For as the body without the spirit is dead, so faith without works is dead also.
On Saturday May 7, 2011, I got a phone call telling me that one of my dear co-workers, Cindi Wilmot, had a kitchen fire in her home and was severely burned over much of her body. As I learned the extent of her injuries my heart nearly stopped. I ached for her. Thankfully, Cindi is in an outstanding hospital in Baltimore where she receives the best of care. Skin graphs were done this week, and overall she's healing well. The prognosis looks good, but none the less, recovery from this kind of accident is painful and long.
Every week Cindi counsels others to trust God, have faith in Him, and let Him carry them through their difficult situation. Now she's walking through a dark valley, yet her attitude is positive, her determination is strong, and her hope for the future is bright. How can that be in the face of such injury and pain? It's because she has living faith. She believes that God is in control and that He will work all things together for good. In addition, she chooses to look at the blessings in the midst of the trial: her children were all safe, the fire was contained to the kitchen, and God is meeting every need. It's clearly evident that Cindi trusts God, has faith in Him, and that He is carrying her through her difficult situation. She's an example of true faith with action behind it as she lives out what she counsels others to do.
Please pray for Cindi and her recovery. If you would like to send a card of encouragement to her, please mail it to: Cindi Wilmot, 239 York Street, Hanover, PA 17331. That's our office address. Or you can send an email to cces@ccesonline.com. Put "Message for Cindi" in the subject line. We'll see that she gets all her mail.
Dear God, bless my sweet sister in Christ. Cover her and her family with Your peace and protection. Give them abundant provision of all that they need at this time, and let the light of their living faith shine far and wide in this community.
By Ann Shorb
©Copyright Ann Shorb, 2011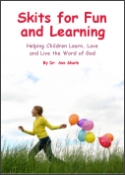 Skits for Fun and Learning
Skits for Fun and Learning is a collection of 15 puppet scripts and 5 articles on the subject of success with puppet ministries. The articles and scripts have been written by Dr. Ann Shorb and the book is available for purchase as a paperback, or as a PDF download.