Psalm 40:1
I waited patiently for the LORD; and He inclined unto me, and heard my cry.
You've heard the saying, "Talking is sharing. Listening is caring," haven't you? I saw it on a sign in front of a church a couple of years ago, and it caught my eye. In the last few weeks, I've seen it again several times. I'm not sure who first said it, but it really is true.
The devotional I sent out to you all on June 24 entitled "God Remembers Me" shared an event that happened to me that week, and how I found God's thoughts toward me to be such a comfort. I have to confess, I wasn't prepared for the response I got. Most of my close friends contacted me to express their concern for me, and to reassure me of their prayers. A few even said, "If you need to talk about it, give me a call." (That's supposed to be my line since I'm the counselor!)
Believe me, I was moved by their compassion and humbled that they would take the time from their busy lives to email, call, or talk to me just to let me know they cared. I knew they had really listened, and it was obvious that they were concerned.
In this busy, fast-paced world, it's all too easy to fail to listen when someone else is talking. Either we are thinking ahead to what we want to say next, or we mentally move on to the next thing on our to-do list. It's especially easy to do that when you are on the phone. Listening says, "I value you. You are important to me. I'm concerned about what you are sharing because it's important to you." Yes, listening deepens relationships, builds trust, and affirms the other person. It's a way of showing God's love to those around us.
Throughout the Gospels, we see the Lord Jesus listening to people and their needs. In John 3, Jesus listened to Nicodemus, a prominent and righteous, Jewish leader who questioned Him about His teachings and His miracles. John 4 records that just a short time later, Jesus sat in a foreign country and listened to a sinful women who came to draw water at the well where He rested. Religion, gender, social position, and moral character didn't matter to Jesus. He listened and He cared. He is the role model we are to follow.
Thank you, dear friends, for your care and concern. I want to let you know that my unpleasant event was resolved as well as it could be, and there has been reconciliation. Thanks for caring! Thanks for listening!
Heavenly Father, thank You for the wonderful people that You place in my life. Thank You for using them as Your representatives of love and compassion toward me. Please help me to be as thoughtful of others as they have been to me.
By Ann Shorb
Copyright Ann Shorb, 2007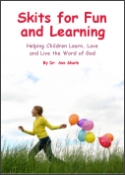 Skits for Fun and Learning
Skits for Fun and Learning is a collection of 15 puppet scripts and 5 articles on the subject of success with puppet ministries. The articles and scripts have been written by Dr. Ann Shorb and the book is available for purchase as a paperback, or as a PDF download.