Genesis 3:8
And they heard the voice of the LORD God walking in the garden in the cool of the day.
Deuteronomy 28:2
And all these blessings shall come on thee, and overtake thee, if thou shalt hearken unto the voice of the LORD thy God.
As beautiful as yesterday was here in Pennsylvania, it was easy to see why people were out walking. I noticed one couple in particular moving briskly with bounce in their step. "What a great way to spend time together," I thought. Then I noticed she was talking on her cell phone, and I wondered how he felt about that. She was with him, right by his side, but her focus was elsewhere. Was it a random thing that interrupted their time together? That can happen easily enough. Or was it something she did often? Was she frequently with him physically, but listening to someone else's voice?
I couldn't help wonder if that's the way the Lord looks at me. Does He think, "Yes, Ann, you're with me and doing the right things but whose voice are you listening to?" In this face-paced world with so much going on, it's easy to be walking with God and get distracted.
James 3:15 reminds us that there are four voices that call to us bringing wisdom, but only God's voice brings wisdom that is pure, peaceable, gentle, merciful, impartial, and sincere. The other three sources of wisdom are sensual, unspiritual and devilish. Listening to them leads to chaos, strife, confusion, and evil.
So, I can walk with God and do many of the right things but get distracted by other voices–or I can give Him my full attention as He speaks through His Word, prayer, my circumstances, other mature believers and His creation. Walking with God truly involves listening to the right voice!
Lord, You have graciously and lovingly brought me into fellowship with You. Please help me to shut out all other voices but Your own.
By Ann Shorb
Copyright Ann Shorb, 2008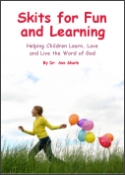 Skits for Fun and Learning
Skits for Fun and Learning is a collection of 15 puppet scripts and 5 articles on the subject of success with puppet ministries. The articles and scripts have been written by Dr. Ann Shorb and the book is available for purchase as a paperback, or as a PDF download.