PROVERBS 27:17 (NKJV)
As iron sharpens iron, so a man sharpens the countenance of his friend.
I love to celebrate, don't you? No matter if we're celebrating a birthday, an anniversary, a holiday, or a special event, it's fun to be festive. Special foods and activities, picnics and parties, when friends get together it can be a wonderful time. But why wait for a special occasion, that one day a year to celebrate? Why not make every day a celebration of those we love and hold dear to our heart?
In her book, FRESH-BREWED LIFE, author and dramatist Nicole Johnson puts it this way, "More than just one day a year, the heartbeat of good friendship is gratitude and joy. Rejoicing, honoring, applauding, commending, saluting, toasting the wonderful people in our lives. Not for what they do, but for who they are and for what they mean to us. Taking the time to say with our words and other expressions, 'Thank you for being you.'"
One of my friends does that by sending cards and writing encouraging notes in them. Another one sends me texts periodically to let me know she's thinking of and praying for me. One gal willingly gives her time and energy to help with my many projects, and cheers me on as we go. Then there's a new friend who smiled and said to me "I delight in you!" I'm still not sure what all that means, but hearing it sure felt good.
All these friends demonstrate the love of God to me. They truly enrich my life, strengthen my resolve live for Christ, and inspire me to be a good friend to others.
Oh, I have to go now! It's Saturday and I'm meeting two friends for breakfast and a nice long chat. I know we'll have a wonderful time together. I only hope I can bless them even half as much as they'll bless me!
PRAYER: Dear Lord, thank You for the many ways my friends encourage and lift me up. Let me be a blessing to them as we celebrate life together.
WORDS TO PONDER: "Good friends are the best collectibles."
–Anonymous
RELATED DEVOTIONALS:
By Ann Shorb
©Copyright, Ann Shorb, 2016
Scripture taken from the New King James Version. Copyright © 1982 by Thomas Nelson, Inc.  Used by permission.  All rights reserved.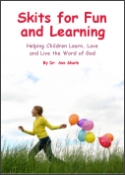 Skits for Fun and Learning
Skits for Fun and Learning is a collection of 15 puppet scripts and 5 articles on the subject of success with puppet ministries. The articles and scripts have been written by Dr. Ann Shorb and the book is available for purchase as a paperback, or as a PDF download.